On the 4th of January 2017 a earthquake swarm took place in Hengill volcano. Largest earthquake had the magnitude of 3,7 and the second earthquake had the magnitude of 2,8. The largest earthquakes where felt in Reykjavík, Hveragerði and Selfoss towns (mostly). In total of 150 earthquakes took place in this earthquake swarm.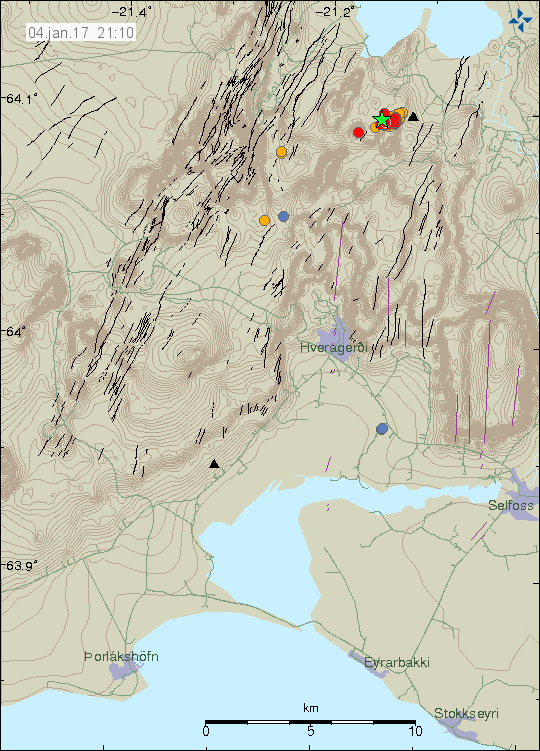 The earthquake swarm in Hengill volcano from 4th of January 2017. Copyright of this image belongs to Icelandic Met Office.
This earthquake swarm was due to a process called rifting, this means that where the earthquake swarm is happening the ground is dropping and cracking at the same time. This over time forms a rift valley (like Þingvellir). The area from Hveravellir and south into the ocean of the Reykjanes ridge is all just one big rift valley. Far as I know a period of high earthquake activity can happen in this area, last time this happened sometimes around the middle of 19th century with possible activity sometimes in the 20th (early) century. Since then it has been mostly quiet.
In the year 1789 (source in Icelandic, 1973) the area around Þingvallavatn lake dropped around 63 cm (that estimate is not accurate and it is estimated that it was far more) in a earthquake swarm. When this is going to happen next time is impossible to know.
Donations
Please remember to support my work with donations. Thanks for the support. 🙂