During the last few days there has been high conductivity in glacier rivers coming from Mýrdalsjökull glacier (Katla volcano). Due to how cold it is the glacier rivers are not getting any melt water or water from clear streams and that is making the hydrothermal water stronger than normal. Current conductivity is 567µS/cm in Múlakvísl in Mýrdalssandur sand area (not sure where the sensor is located). Some gas has also been detected and that gas is toxic and enough amount to result in breathing problems. Measured amount of H2S was 1ppm and this gas is toxic.
Some minor earthquake activity has been in Katla volcano during the last two days. That earthquake activity might be due to the emptying of the cauldrons in Mýrdalsjökull glacier. The magnitudes in this earthquake activity is minor and all below 2,0 at the moment.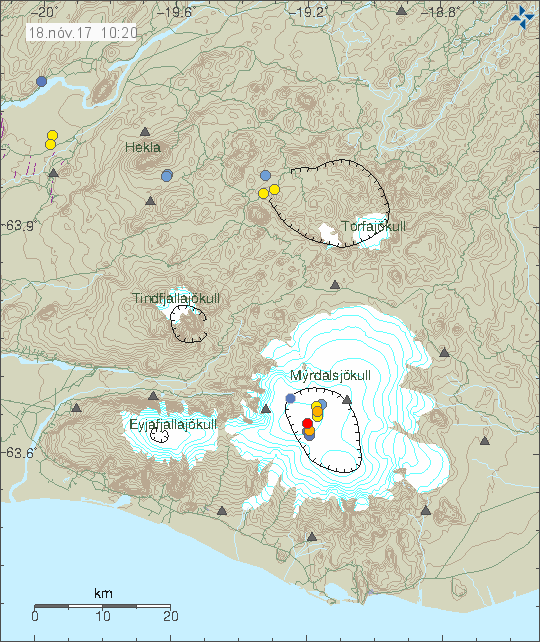 Earthquake activity in Katla volcano. Copyright of this image belongs to Icelandic Met Office.
It is difficult to know if this means anything other than cauldrons in the glacier emptying them self in nearby glacier rivers.