I was busy today so I only just got home and this article is going to be a short one.
Today around (09:00 UTC) a small earthquake swarm took place in Fagradalsfjall mountain. At around 12:00 UTC an stronger and more massive earthquake swarm started in Fagradalsfjall mountain. At the writing of this article more than 700 earthquakes have been recorded and that is possibly an underestimate. At the writing of this article, largest earthquake had a magnitude of Mw4,4 and more than eighteen earthquakes with magnitude above Mw3,0 had taken place. Many of them were felt in Reykjavík and other nearby towns.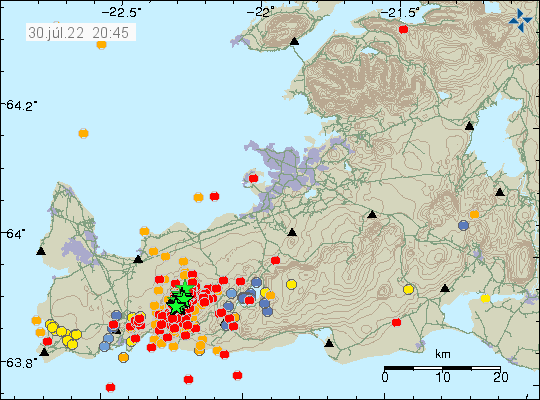 It is difficult to know when a eruption is going to start. I find that the most likely outcome of this earthquake swarm. The magnitude of the harmonic tremor suggests that an eruption would be larger than last eruption in Fagradalsfjalli mountain. It is impossible to know if that is going to happen until an eruption starts. Currently the harmonic tremor was or is dropping. I do think it is going to increase again since that seems to be a pattern in this cases of magma intrusion until an eruption starts.
I'll post more updates as this continues. Rúv and mbl.is have turned on their web cameras. They can be found on YouTube.
Donations
Please remember to support my work with donations. Thanks for the support. 🙂