Currently I can only post articles limited. This is going to be the situation until 5th of July when I get internet connection in Denmark.
Today (8-June-2022) at 05:04 UTC an earthquake with magnitude of Mw3,0 took place in Nátthagakriki that is south-west of Fagradalsfjall volcano. It has been followed by smaller earthquakes with shallow depth of 2 km. It is unclear what is going on and no changes have been seen on GPS monitoring in the last few days for this area.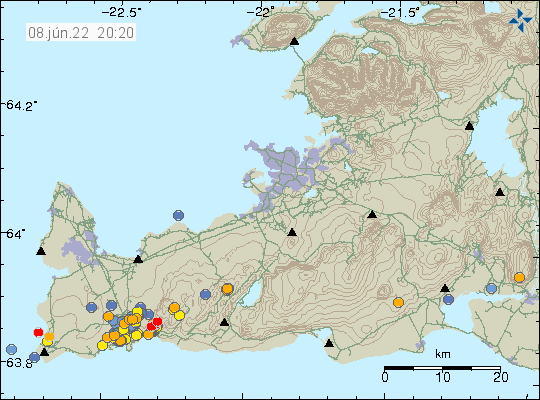 Older data already shows that magma is flowing into an area of the crust below Fagradalsfjall volcano (mountain). When that might erupt is impossible to know. It is also not possible to know when next cycle of earthquakes and eruptions starts in Krýsuvík-Trölladyngja volcano system.
Donations
Please remember to support my work with donations. Everything helps. Thanks for the support. 🙂