Today (8-December-2021) an earthquake swarm started north of Grindavík town. Largest earthquake in this swarm so far had a magnitude of Mw3,1 at 10:44. The news doesn't say if this earthquake was felt in Grindavík. Earthquake activity has been going up recent weeks since the eruption in Fagradalsfjall ended on 18th September 2021. A swarm of smaller earthquake activity is currently ongoing in this same area at the writing of this article.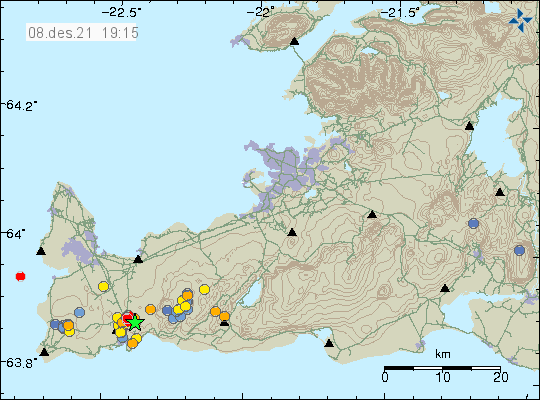 This activity is in a different volcano than that erupted earlier this year in Fagradalsfjall. Currently, that eruption is connected with Krýsuvík-Trölladyngja but it might be its own volcano. Its remains unclear for now what volcano was erupting. This earthquake activity is happening in a volcano called Reykjanes and might have erupted in the year 1831 (or not, the details are unclear).
There is a risk of stronger earthquake activity in this area. When it might happen is impossible to know.
Donations
Please remember to support my work with donations. Thanks for the support. 🙂