The earthquake swarm with Keilir mountain continues today (2-October-2021) and largest earthquake at the writing of this article had a magnitude of Mw4,2. This might change without warning.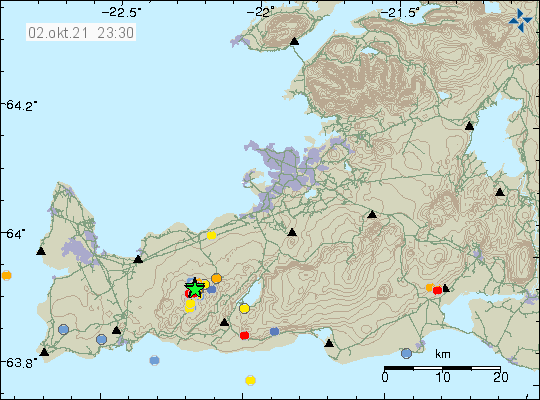 Based on what I am seeing it is my view that magma is the reason why this earthquake activity is happening. The magma seems trapped, based on the earthquake activity and that is interesting. This suggest that the feeder channel, that possibly started at this location has closed up and that is the reason why the eruption in Fagradalsfjall mountain stopped. At least that is the working idea, if it is true I don't know.
Department of Civil Protection and Emergency Management and Icelandic Met Office has warned people against going to Keilir mountain because of risk of volcano eruption or large earthquakes.
It is unclear at the writing of this article if there are changes to hydrothermal activity close to Keilir mountain. There have been reports about it, but they remain unconfirmed at the writing of this article.
There is now a risk of an earthquake with magnitude of Mw6,0 in the area of Keilir mountain. The earthquake activity shows a pattern of high and low activity every few hours. Why this happens is not well understood at the writing of this article.