Since last night (night of 3-May-2021) there has been earthquake swarm in Krýsuvík volcano close to Kleifarvatn lake. At the writing of this article this earthquake swarm is ongoing.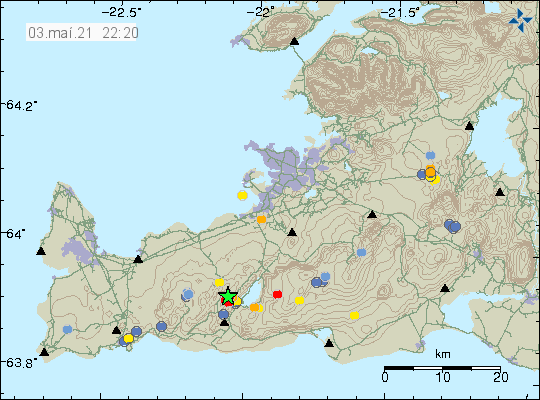 Largest earthquakes in this swarm had a magnitude of Mw3,2 and there where several other smaller earthquakes that also happened. The earthquake at 03:04 UTC was felt in Reykjavík but I don't have any reports about the earthquake at 15:49 UTC with same magnitude being felt. It is difficult to know what this earthquake activity means but for now the idea is that this earthquake activity might be connected to stress changes because of the magma dyke connected to the eruption in Fagradalsfjall mountain that is happening within same volcano system.

Donation
It is possible to support my work with one donation or a regular donation by using the PayPal feature on the right side of the website. Thanks for the support. 🙂
Vacation
I am taking a little vacation between 5 May and until 10 May. Unless something major happens next update won't be until after 10 May 2021. I am hoping to see the eruption or the area if the eruption is not ongoing next weekend if weather allows for such a trip. I don't know yet if I can see the eruption, but I hope that I am going to have a chance to see the eruption.