This is a short update on the eruption in Fagradalsfjall mountain as it is part of Krýsuvík-Trölladyngja volcano.
There has been a slight increase in micro-earthquake activity along the dyke after the new fissures opened up in Fagradalsfjall mountain. Most of them are interestingly forced on a area close to Keilir mountain.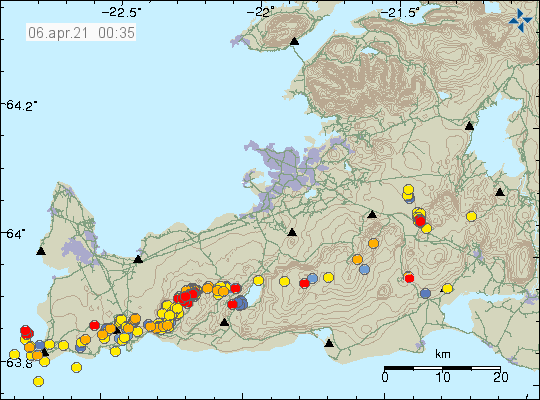 It has been reported that lava flow from the new and old eruption site is now more than what was most at the old eruption site (Geldingadalir valley). It is now estimated to be total 10m3/second.
Craters are building up at the new eruption site. That might change the lava flow long term and there is a risk that it is going to flow towards Geldingadalir valley when that change in lava flow happens.
There is a high risk of new fissures opening up both north and south of Geldingadalir valley (1st eruption) and north of Fagradalsfjall mountain eruption (2nd eruption).
Lava is now flowing into Meradalir valley. That valley is far larger then Geldingadalir valley and won't be filled up easily. There seems to be more water in this valley and that might result in lava explosions if the lava gets that far down into the valley.
Currently there are no other new information that I can find. Next update should be on Friday 9th April 2021 unless something major happens.