This is a short update at 21:19 UTC about the earthquake activity in volcanoes Reykjanes and Krýsuvík.
Earthquake activity slowed little since last update at 14:41 UTC. There are now fewer larger earthquakes taking place at the writing of this article. That has the chance of changing without warning. There seems to be new areas of activity appearing on the automatic Icelandic Met Office map. It is unclear if this is a artifact of the heavy earthquake activity in the area or a real thing is difficult to know for sure at the writing of this article.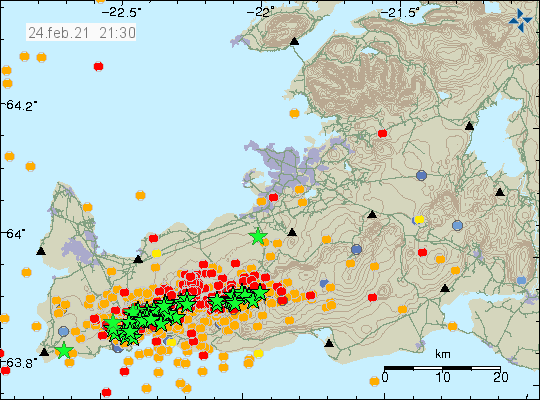 Currently there are no signs of magma moving in both volcano systems. That might change without warning if there is a sudden change in activity. Because of how long it has been since last eruption took place in both volcanoes what happens before an eruption is unclear. What is only known from around 681 year old historical records that did survive to this day is that earthquake activity increases sharply before an eruption and does so a good while before the first eruption happens. Last eruption in Krýsuvík volcano was in the year 1340.
I am going to post next update tomorrow (25-February-2021) unless something major happens and then I'll post a new article soon as possible.