Early morning on 16-December-2020 at 04:30 UTC an earthquake with magnitude of Mw4,1 took place close to Reykjanestá in Reykjanes volcano. The largest earthquake was felt over a large area. A swarm of small earthquakes started soon after the largest earthquake and this swarm was active for few hours.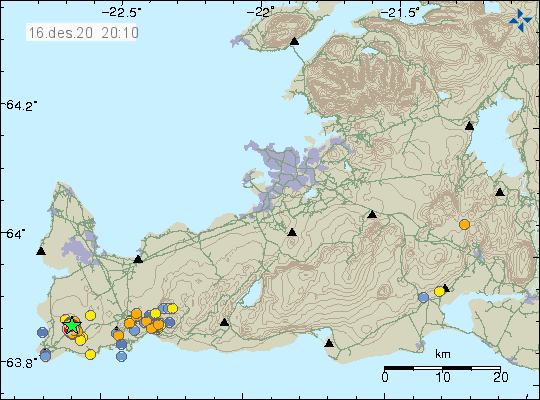 The green star shows the area of activity early morning in Reykjanes volcano. Copyright of this image belongs to Icelandic Met Office.
A second smaller earthquake swarm started just north of Grindvík town few hours after the earthquake swarm close to Reykjanestá. GPS data for the area doesn't seems to have updated on the web and because of that I don't know if the area is entering new inflation phase or not. The earthquake activity suggests that Reykjanes volcano is about to enter a new inflation phase but that is currently not certain.