Today (11-November-2020) a swarm of small earthquakes took place north of Grindavík town in the Reykjanes volcano. This where all small earthquakes and largest earthquake had a magnitude of Mw1,7. At the writing of this article Icelandic Met Office website lists 76 earthquakes on Reykjanes peninsula.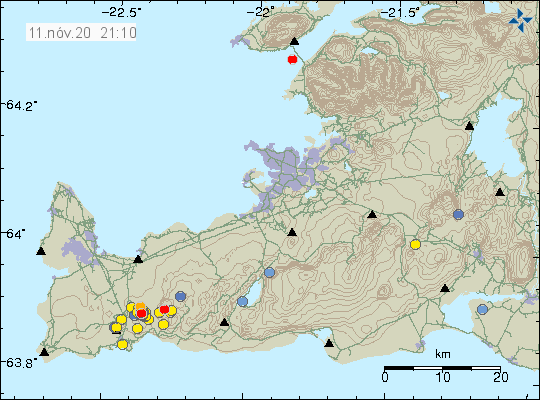 The earthquake activity in the Reykjanes volcano. Copyright of this image belongs to Icelandic Met Office.
There is not a big change in the GPS data but there is a small change that suggests that Krýsuvík volcano has started to inflate more after the magnitude Mw5,6 earthquake. The GPS data can be viewed at University of Iceland GPS Reykjanes time series.
Donations
Please remember to support my work. Currently I am broke and I don't know how to make it to the end of the month. Everything is going to help me to make it properly to end of November. I hope my money situation improves next year a little but that depends on factors that I don't have any control over. Thanks for the support. 🙂