According to Icelandic Met Office and news at Rúv.is the inflation at Þorbjörn mountain seems to have started again after few weeks of no inflation being detected. The inflation now seems to be small but that might change without warning. There might not be a lot of earthquake activity connected to this time of inflation because the area already is inflated and there was a lot of earthquake activity earlier in the year when this started. Earthquake activity might be more common on the edges and at those location the risk of magnitude Mw6,0 earthquake is highest, but is impossible to be certain about this due to how many faults there are on the Reykjanes peninsula, both from volcanoes and rift faults due to the rift valley that is there (its just full of lava).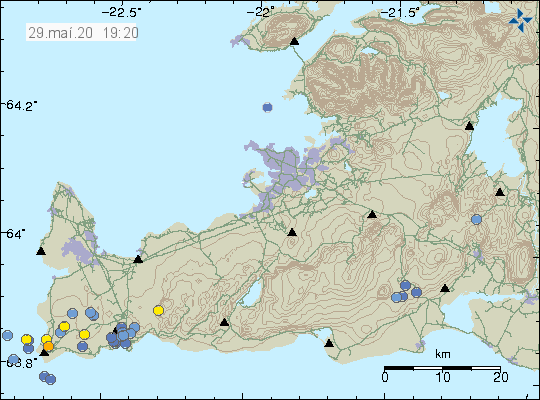 There was a earthquake swarm yesterday (28-May-2020) north of Grindavík town. Copyright of this image belongs to Icelandic Met Office.
How this is going to change and evolve over the next few weeks is not something that can be predicted with any certainty for now. Since there have not been any eruption in this area for close to 800 years it is not known how this volcano systems behave in a eruption and inflation phase.
GPS data can be found here.
Icelandic News
Land virðist farið að rísa við Þorbjörn á ný (Rúv.is)
Vísbendingar um að landris sé hafið að nýju við Þorbjörn (Vísir.is)
Donations
Please remember to support my work with donations. Thanks for the support. 🙂
I am going to start working I hope next week in order to increase my income and making things easier for me when it comes to money from July to September. This means slightly less time to update this website if anything happens during the work day.