Latest news from Icelandic Met Office is that more than 6000 earthquakes have been recorded since start of January 2020 in the Reykjanes volcano and this is the most earthquake activity recorded in this area since start of digital earthquake records in 1991. Three dyke intrusion have been identified by Icelandic Met Office and it is my view that the fourth (and fifth?) might be out in the ocean close to Eldey island, due to no GPS measurements being available out in the ocean any dyke intrusion at that location is going to go undetected for a while.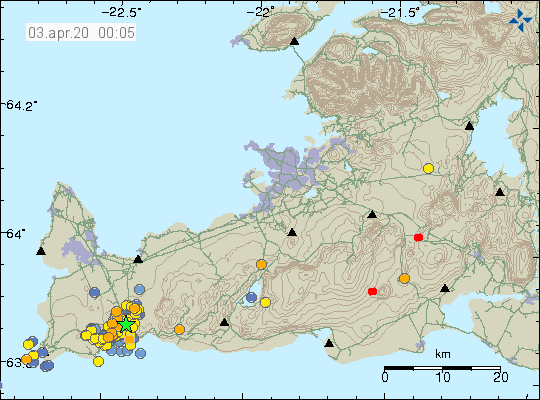 The earthquake activity north of Grindavík town. Copyright of this image belongs to Icelandic Met Office.
In recent days there have been two earthquakes with magnitude Mw3,0 and Mw3,1. This earthquake activity is going to continue in this area. Inflation as measured so far has reached 60mm to 70mm. Inflation is taking place over a large area and this has started opening up old fissures and changing the pressure and strain in the crust in this area. Resulting in earthquakes as faults move because of the inflation.
Icelandic Met Office press releases
More research is needed to decipher the on-going activity at the Reykjanes Peninsula as a whole
Vísbendingar um nýtt kvikuinnskot á Reykjanesi (Icelandic, picture)
Donations
Please remember to support my work with donations. This April I am really broke because of unexpected tax bill from Denmark and other bills that I am paying (and other problems). Thanks for the support. 🙂