This is article is set-up in this way to save me some time due to the fact that I have to go to work tomorrow at 07:00 UTC (this is until 23rd October 2018).
Öræfajökull volcano
Since yesterday (01-October-2018) there has been a earthquake swarm in Öræfajökull volcano. There has been several dozen earthquakes in this earthquake swarm. Most of them are small. Largest earthquake in this swarm had a magnitude of 3,1 and was felt on nearby farms (there is no town or village close to Öræfajökull volcano). This earthquake swarm is currently ongoing.
Bárðarbunga volcano
A magnitude 3,0 and 3,6 earthquakes happened in Bárðarbunga volcano today. The smaller earthquake happened early in the morning but he larger one at 13:08 UTC. There hasn't been any large amount of earthquake activity following this earthquakes. This is now the normal pattern of Bárðarbunga volcano since the eruption 2014 – 2015 (Holuhraun).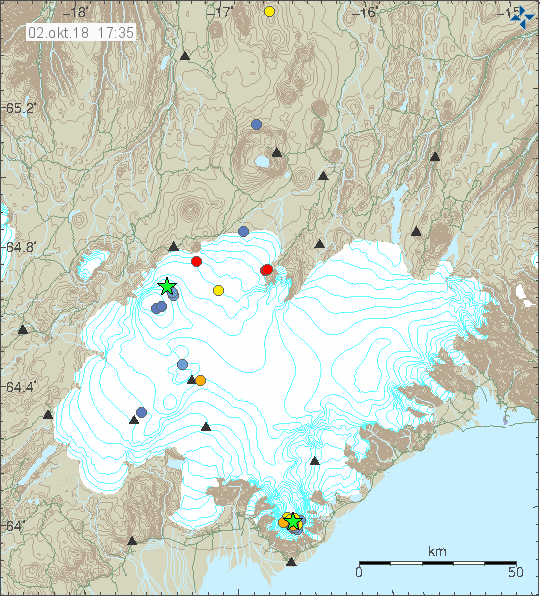 Earthquake activity in Bárðarbunga and Öræfajökull volcanoes. Copyright of this image belongs to Icelandic Met Office.
Donations
Please remember to support my work with donations. See pinned article for what I need for Raspberry Shake seismometer network upgrade. Thanks for the support. 🙂