Early morning today (22-Februar-2018) at 07:34 UTC a magnitude 3,6 earthquake happened west of Kópasker village. This earthquake was felt in Kópasker and in 90 km distance from where it happened.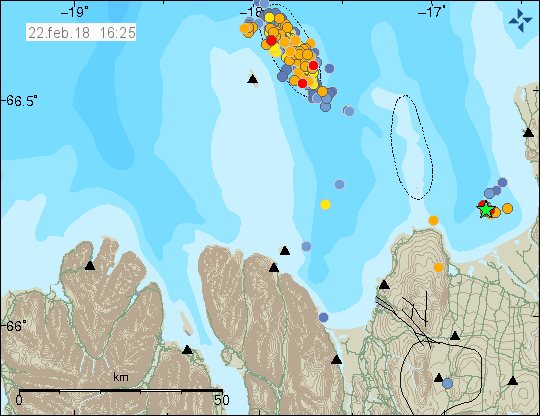 The earthquake activity west of Kópasker (green star). Copyright of this image belongs to Icelandic Met Office.
Before the main earthquake two fore-shocks took place according to Icelandic Met Office. It is not known if current sequence of event is going to result in a larger earthquake on Tjörnes Fracture Zone.
Donations
Please remember to donate as I am completely broke at the moment. The time period of me being always broke is coming to an end since I am moving back to Iceland. Living in Denmark is the reason why I am always broke (taxes and how things are billed here in Denmark is the reason). Thanks for the support. 🙂

Moving to Iceland
I hope to confirm by that tomorrow I can confirm a new move date to Iceland. That new move date is on 31st May 2018 (hopefully). Any help with donations is welcomed since I am going to have problems in terms of money until I move from Denmark to Iceland.