Yesterday (05-January-2018) a warning was issued about higher conductivity in glacier rivers from Mýrdalsjökull glacier. This is due to increased activity in Katla volcano. At the moment the conductivity is around 613 µS/cm according to Icelandic Met Office (I can't find that number on their website for unknown reasons). Volcano gas has also been registered at Láguhvolar SIL station (a gas measurement takes place there). Last time this happened was in November-2017 when a slightly larger glacier flood took place.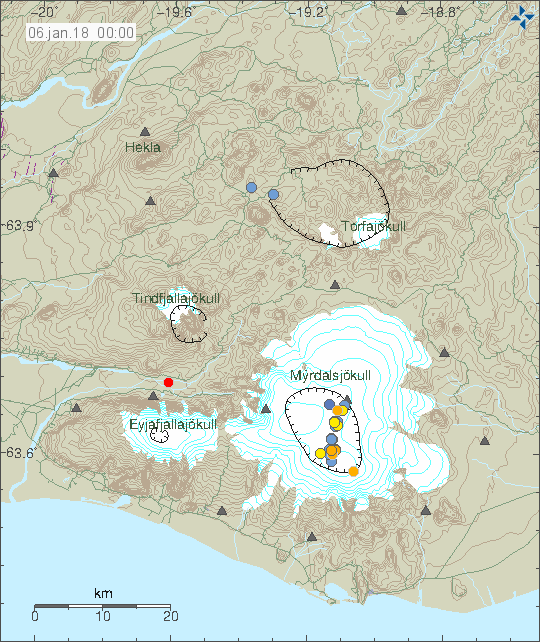 The earthquake activity in Katla volcano. Copyright of this image belongs to Icelandic Met Office.
Following the glacier flood was a sharp increase in earthquake activity. It is unclear why that happened as glacier flood do not require special earthquake activity to happen. There are no clear sign of minor eruptions happening on SIL stations around Katla volcano. I have not seen any change in tremor plots from SIL stations around Katla volcano. As it now stands I am expecting more earthquake activity and more glacier flood activity if this follows earlier pattern. That might not happen and it is difficult to know for sure what is going to happen next. Largest earthquake in current activity had the magnitude of 2,1 and all other earthquakes have so far been smaller in magnitude. All earthquakes have depth shallower than 1 km.
Sorry if my English is bit off. I did travel for good 14 hours (start time at ~04:10 and got home at ~18:40) on 4th of January-2018. This is the time it takes me to travel home (Denmark) from Iceland. I was completely exhausted once I got home.
Donations
Please remember to support my work with donations. Thanks for the support. 🙂