Yesterday (25.01.2016) there was an earthquake activity directly under Grímsey island (Wikipedia information). Earthquake swarms directly under Grímsey islands are uncommon, but they do happen from time to time. Current earthquake swarm is getting close to a mid-range scale (as I count them) in number of earthquakes, with around 36 earthquakes recorded so far. Some of this earthquake activity must have been felt in Grímsey island, even if it has not been reported anywhere (that I know of). This earthquakes are not large enough to create any damage, just a little rattle of glasses and dishes in cabins and such items.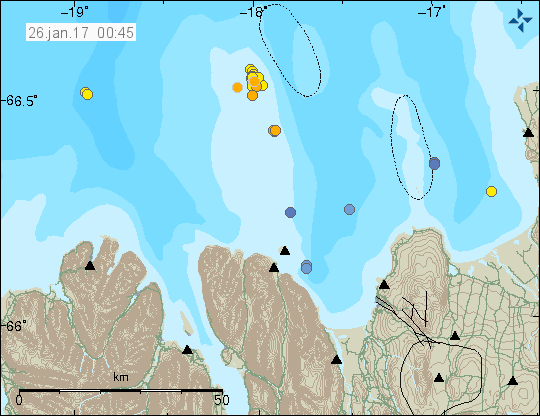 The earthquake activity directly under Grímsey island. Copyright of this image belongs to Icelandic Met Office.
Largest earthquakes in this swarm had the magnitude of 2,8 and 2,7. Other earthquakes have been smaller in magnitude so far. I don't think this earthquake swarm is over at the moment, even if the earthquake activity has dropped at the moment.

Donations
Please remember to support my work with donations. It keeps this website up and running. Thanks for the support. 🙂
Article updated at 02:23 UTC.