Yesterday (15-March-2016) an earthquake swarm took place in Askja volcano. This was an deep earthquake swarm, with deepest earthquake having the depth of 18,7 km and the shallowest earthquake with the depth of 14,9 km. The earthquake swarm took place inside the volcano and there are clues that suggest it has it's origin. This has been happening regularly since 2010 and after the Bárðarbunga volcano dyke getting close to the main magma chamber in Askja volcano the activity has slowly been increasing. This activity is not above background levels and nothing suggests that an eruption is about to happen any time soon.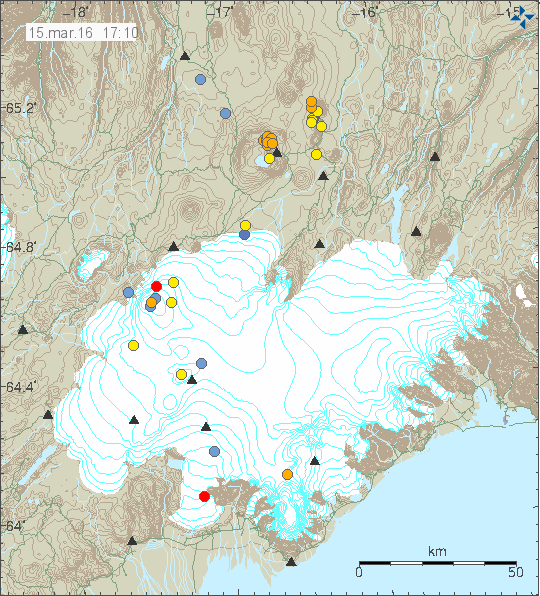 Askja volcano is located to the north-east of Bárðarbunga volcano. Copyright of this image belongs to Iceland Met Office.
For the moment the progress and the change in Askja volcano is slow, but that might change if the magma inside the system finds a pathway to the surface. If an eruption does happen I'm not expecting anything big, just a lava eruption that is going to go on for few days to weeks. Unless the magma gets into contact with water, creating a short term explosions. This is only a speculation, but Askja volcano is an active system and as such anything should be expected from it.