The eruption in Holuhraun continues at the same phase as it has been doing last week. Current flow of lava from the crater is around 60 – 80 m³/sec according to the news on Stöð 2 (Channel 2). The lava field is in many areas nothing but a shell, below it is the 1000C hot lava, when the pressure is high enough below this shell it breaks up trough the crust (see video in the news from Stöð 2). The main crater is around 500 meter long and is around 80 meters high, among the largest craters in Iceland at the moment. New pictures suggest that a new crater has opened up at north end of the main crater (I don't have the location 100% confirmed), latest pictures that I have seen suggest that at the moment no lava flow is coming from it at the moment. That might change without warning. The whole crater is erupting, not just one spot within it. Currently the lava field is around ~84 km² in size. The eruption in Holuhraun has now been going on for 4,5 month.
The lava has now started to flow over 88 year old lava named Þorvaldshraun, that lava erupted from Askja volcano during the years 1926 – 1930 (I don't have exact eruption period). A new lake is expected to form next to Holuhraun when the flow from nearby glacier rivers increases, since the lava flow has almost blocked the glacier rivers that flow there. Where once was a landscape of sand, now there is fresh landscape of lava, since lava has replaced a sand desert that once existed at this location. There are no signs that this eruption is about to end any time soon.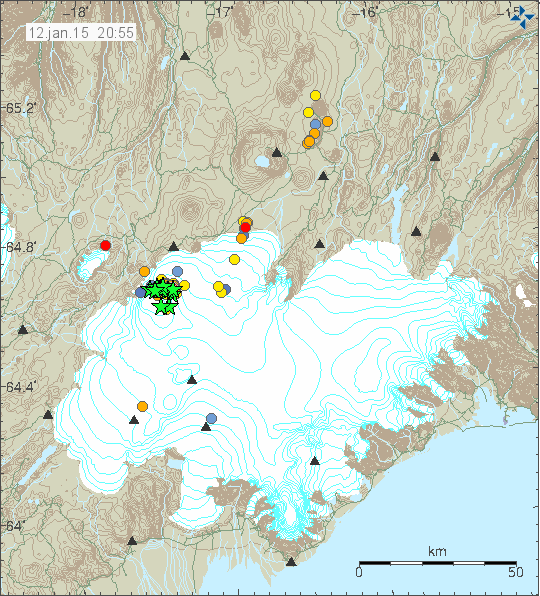 Latest earthquakes in Bárðarbunga volcano for the past 48 hours. Copyright of this image belongs to Icelandic Met Office.
Earthquake activity has been increasing in the past 24 hours. I'm not sure why that is happening, but several magnitude 4,0 and stronger earthquakes have been taking place since midnight. That also seems to be the general earthquake activity in Bárðarbunga volcano at the moment. Earthquake activity along the dyke is also increasing, I am not sure what that means at the moment.
Air quality
SO2 pollution is a big problem in Iceland due to the eruption. Yesterday the SO2 pollution in a valley called Jökuldal, with pollution values going up to 7800 μg/m³. This pollution goes where the wind is blowing at any given time. Still weathers are the worst since that allows for SO2 to build up in the atmosphere and in location that are low in the landscape.
Icelandic News
Einn fegursti gígur Íslands er að myndast í eldgosinu (Vísir.is, Icelandic, video)
Dimmt af mengun á Jökuldal (Rúv.is, Icelandic)
Article updated at 23:08 UTC.
Article updated at 23:42 UTC.
Article updated at 20:16 UTC on 13-January-2015.
Article updated at 20:19 UTC on 13-January-2015.