Eruption activity continued in Holuhraun at the same rate as on Monday (10-November-2014) and yesterday (Tuesday 11-November-2014). While bad weather has making observation of the eruption in Holuhraun difficult and close to impossible there are no signs of the eruption ending any time soon. A lava lake has now formed that is around 400 meters long and 100 meters wide. This is the first lava lake in Iceland in a long time. I don't know when last lava lake existed in Iceland, but that was a while ago.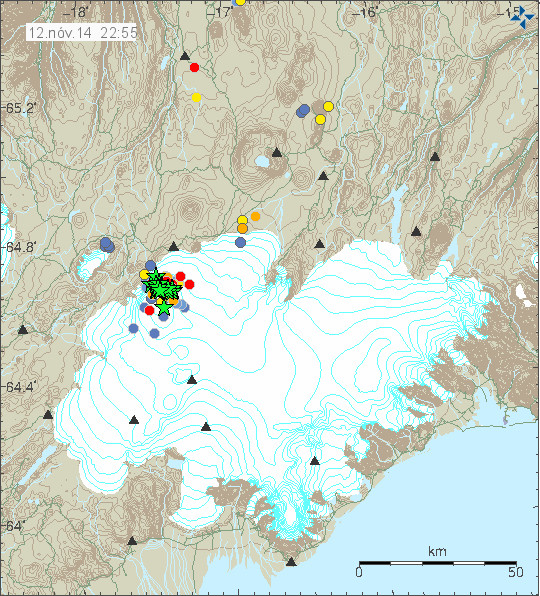 Earthquake activity in Bárðarbunga volcano for the last 48 hours. Copyright of this image belongs to Icelandic Met Office.
Earthquake activity in Bárðarbunga volcano continues as it has been doing for the past two and half months. This means that the caldera continues to subside at unchanged rate. I do not know how much the area has grown that is now subsiding, I think there is limited information on that due to limited access to this area in the winter time. At the moment nothing seems to be changing and GPS data is supporting that view of mine. Comments on this blog and blogs posts by people how have gone to the eruption site in recent days say that new fractures are appearing south of current eruption crater. This means that rifting is continuing, this also means that new eruption south of current crater might start at any time without warning. Since magma is at shallow depth at this location, with depth being only 1 – 2 km at most, it is possible that it might even be at shallower depth closest to the eruption crater (but has not erupted yet).
Tungafellsjökull volcano
There has been minor increase in earthquake activity in Tungafellsjökull volcano. At the moment this looks just like a tectonic stresses are adjusting to all the changes in Bárðarbunga volcano. Earthquake activity in Tungafellsjökull volcano might increase in next few days or weeks. I don't expect any eruption to take place at this point in time.
Bad weather warning
For the next two days there is going to be bad weather in Iceland. This means that detection of earthquakes is going to be limited in Holuhraun and around Bárðarbunga volcano. This means that only largest of earthquakes are going to be properly detected. Visibility to the eruption site on web-cameras is not going to be awful to none due to the snowstorm that I expect might follow this storm in the highland (it might rain, but I am not sure on that detail yet). It is storm season in Iceland so expect a lot of storms all winter.