Bad weather in Iceland has been making monitoring of Bárðarbunga volcano difficult at best. Information for that reason is a bit limited at the moment.
Earthquake activity continues in Bárðarbunga volcano as it has been doing for the past two months. Largest earthquake this morning had the magnitude of 5,4 and happened at 07:11 UTC. Other earthquakes have been smaller, due to bad weather in all of Iceland fewer earthquakes have been recorded today and yesterday (06-November-2014).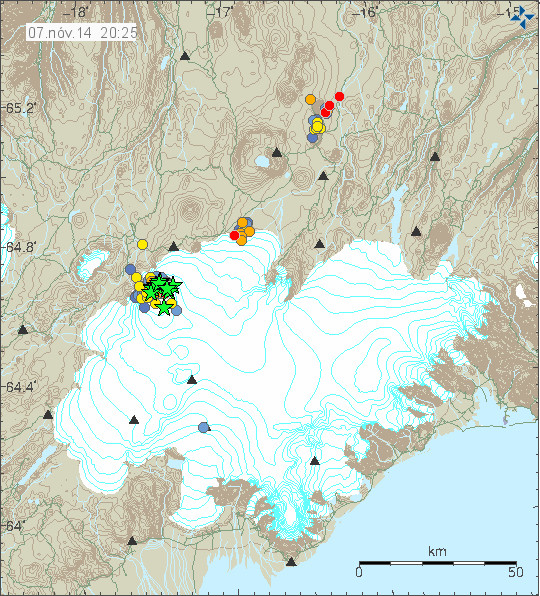 Earthquake activity in Bárðarbunga volcano for the past 48 hours. Copyright of this image belongs to Icelandic Met Office.
GPS measurement are showing that subsidence in Bárðarbunga volcano continues at the same rate as before. The rate of subsidence is the same, the change however is that larger area of Bárðarbunga volcano has now started to drop, suggesting that current eruption in Holuhraun has started to drain magma from other dykes in Bárðarbunga volcano or sill in it. The details of this can be found here in latest report from Icelandic Met Office on current activity in Bárðarbunga volcano.
No change has taken place in Holuhraun, the eruption continues with same rate as before far as I know. Bad weather has blocked the web cameras and I don't think there is anyone close the eruption site due the weather. Far as I know there is nothing else in the news about the activity in Bárðarbunga volcano.
Donations: Please remember to donate to support my work or by using Amazon to support my work by shopping with them. Thanks for the support. 🙂