This is current status in Bárðarbunga volcano for Wednesday 05-November-2014.
There has not been any major change in the eruption in Holuhraun since Monday 03-November-2014. The eruption continues around the same phase as before. Earthquake activity continues to be strong as it has been for the past two months. With several magnitude 3 – 4,9 earthquakes happening every day, the amount of earthquakes is different between days.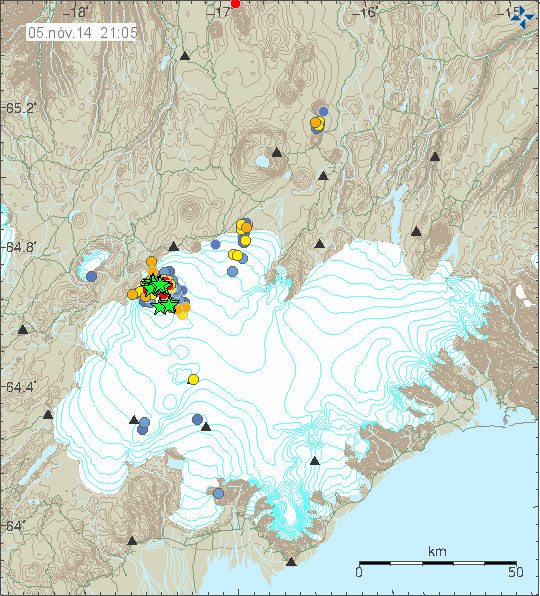 Earthquake activity in Bárðarbunga volcano for the past 48 hours. Copyright of this image belongs to Icelandic Met Office.
It continues to be extremely dangerous going to the eruption site as two police men found out yesterday. They hit a pocket of dangerous gases that had removed most of the oxygen in the area where they had located them self, at the edge of the lava field and where some two to three kilometres away from main erupting crater. They almost passed out due to lack of oxygen and they where using gas masks according to the news on Rúv about this insistent.
Drop of the caldera in Bárðarbunga volcano continues at the same rate as before, the most drop is now around 44 meters in the caldera. Cauldrons in the glacier above Bárðarbunga volcano continue to getting deeper, the depth has increased around 5 – 8 meters in the past 11 days according to recent measurements. The amount of melt according to calculations is around 2 cubic meters per second (m³/sec). This is equal to energy release for few hundreds megawatts according to University of Iceland. It is now difficult getting to the eruption site due to winter in the area, travel by car is now at minimum seven hours the other way in best conditions.
Other than this I don't think there is anything else new about Bárðarbunga volcano eruption at the moment.
Icelandic News
Færð gerir vísindamönnum erfitt fyrir (Rúv.is)
Lögreglumenn urðu fyrir súrefnisskorti (Rúv.is)