The eruption in Holuhraun continued last weekend as it has been doing for the past two months. No change happened. Due to bad weather this weekend it was difficult to monitor what was happening in Holuhraun. The eruption continues at full force from what I can see on Míla web cameras, when I was viewing it earlier today I noted that lava strokes where going up 20 – 50 meters high up. The main crater has build up around 90 meter high wall around the main eruption, blocking all view to it. I don't know how stable this wall it, so collapses might happen in it at times without warning.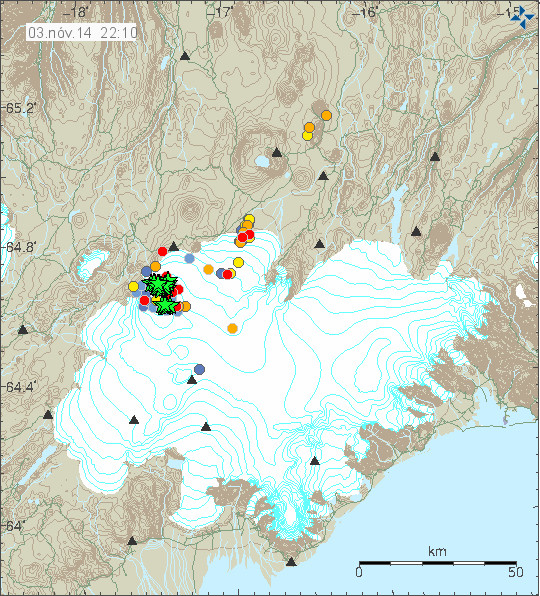 Earthquake activity for the past 48 hours in Bárðarbunga volcano. Copyright of this image belongs to Icelandic Met Office.
Largest earthquake during the weekend had the magnitude of 5,4. Other earthquakes where smaller, but there was a lot of earthquakes that had magnitude larger than 3,0. This high volume of strong earthquakes continues in Bárðarbunga volcano, so far more than 61 earthquake have been larger then magnitude 5,0, more then 228 earthquakes with magnitude 4 – 5 have happened since this started and more than 434 earthquakes have happened in Bárðarbunga volcano since August. The amount of magma that has erupted in Holuhrauni lava field is now 1,0 km³ (or more). The new lava now covers 70 square kilometre area according to last measurements that I know of. The eruption in Holuhraun is still fourteen times smaller than Laki eruption that happened 1783 – 1784. Far as I know there is currently nothing more to report.
Icelandic News
Stærsta gos síðan í Skaftáreldum (Rúv.is, Icelandic)
Donations: Please remember to support my work with donations or by shop with Amazon links that I have up here. If I don't have a banner up from your area of the world please check this site that I have for other regions. I only support North America and Europe for Amazon store, since I get most of my traffic from those areas.
Article updated at 00:37 UTC on 04-November-2014.