Current activity in Bárðarbunga volcano is around the same as it has been for the past weeks with no sign of change coming. The eruption in Holuhraun continues at the same rate as before with no change taking place. I am not sure how big the lava field is at the moment, it is however somewhere over 54 square kilometres in size. It is growing every day, the growth rate is however different depending on how much lava is flowing out of the craters at any given day.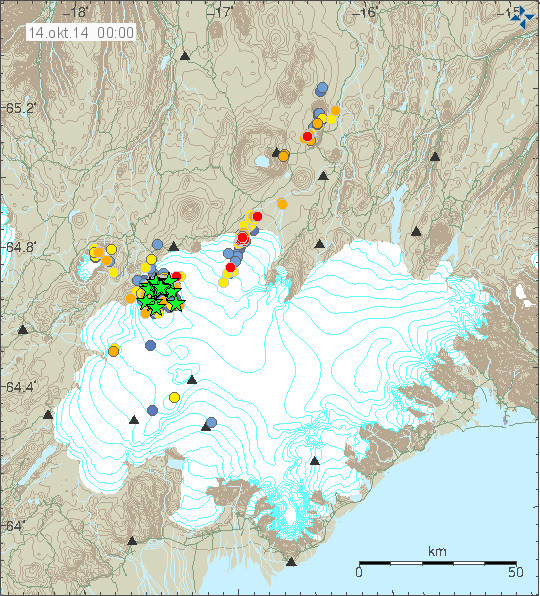 The earthquake activity in Bárðarbunga volcano. Copyright of this image belongs to Icelandic Met Office.
Earthquake activity remains high in Bárðarbunga volcano. With several magnitude 3,0 or larger earthquakes happening every day. There doesn't seems to be any major change in that activity. Largest earthquake on 13-October-2014 had the magnitude of 4,8 and second largest earthquake had the magnitude of 4,7. Most of the earthquake activity is happening in the caldera that has now dropped some 36 – 37 meters far as I know. There has been increase in earthquake activity along the dyke, suggesting that at least for the time being the pressure inside of it is increasing and dropping between those increases. SO2 pollution is now a problem in Iceland depending on wind direction. This pollution is hard on people with asthma or other breathing problems.
Eruptions under the glacier
Due to the nature of the volcano activity in Bárðarbunga volcano it is clear that eruptions under the glacier are going to take place. They have already happened, so far those eruptions have been minor and only lasted for few hours at the time. Eruption that might last for months at the time as current Holuhraun eruption might start one day without a warning under the glacier. When that happens there is going to be a glacier flood and the harmonic tremor is going to go up once that happens. That does not mean end to the eruption in Holuhraun, since both places can easily erupt at the same time.
Tungafellsjökull volcano
There has been increase in earthquake activity in Tungafellsjökull volcano. Current idea is that this activity is due to stress changes in the crust around Bárðarbunga volcano. Both due the caldera collapse taking place and rift zone is moving by rifting. I am monitoring this activity for any changes that an eruption might take place. Due to lack of any historical eruptions in Tungafellsjökull volcano there is no way to predict or know what happens in this volcano.