This information is going to get outdated quickly.
Eruption in Holuhraun continues and there are no signs about it ending any time soon.
Lava lake has formed in one of the south crater according to the news today. The crater is not erupting at the moment.
Earthquake activity continues along the dyke south of the Holuhraun eruption.
Bárðarbunga continues to drop and I am estimating that the drop today is around 1 meter a day. This number has not been confirmed. Last confirmed number on the drop was that the Bárðarbunga volcano was dropping 90cm/day.
The area around the eruption site is toxic. Due to ever changing wind in the area the risk of getting SO2, CO, CO2 and other toxic gases over one self is always present.
There are warning in place for the SO2 pollution in Iceland at the moment. The warnings are issued based on wind direction at any given time.
The lava continues to flow into Jökulsá á Fjöllum glacier river. This lava is going to create a dam in next few days. The lava is flowing into the river at such force it doesn't stop and doesn't cool down properly to stop the flow of new lava into the glacier river.
I have been seeing harmonic tremor spikes all day today. I have traced them to Bárðarbunga volcano. I am not sure on location. It is difficult to know for sure what this means at the moment.
Earthquake activity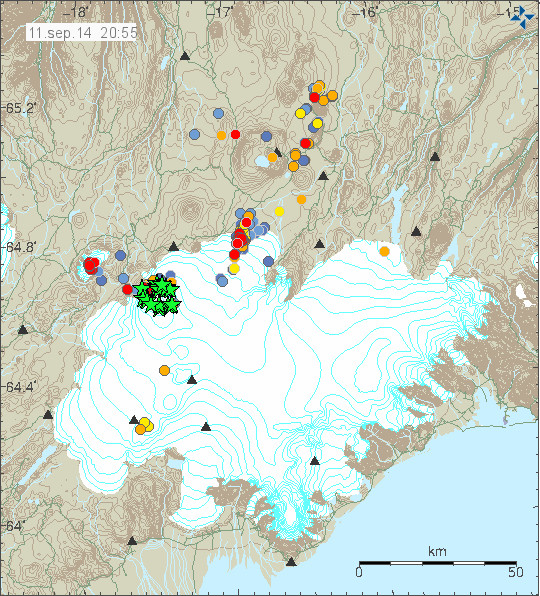 Earthquake activity today. Notice how the green stars (earthquake above magnitude 3,0) form a circle around the caldera that is about to collapse into it self. Copyright of this image belongs to Icelandic Met Office.


The earthquake trace of the earthquakes today. The larger earthquakes are spaced around 12 hours apart. I don't know why that is. Copyright of this image belongs to Icelandic Met Office.
Tungnafellsjökull volcano
There has been earthquake activity today in Tungafellsjökull volcano. I don't know what this means since I don't have any history about eruptions in that volcano. None have been document in the past 1000 years, and none have shown up in the data for the past 8000 years at least. What I do know is that I suspect the volcano might have started to prepare for an volcano eruption in the future. At least Tungafellsjökull volcano was showing slightly higher activity in past few months than normal, but that earthquake activity did stop and everything did go back to normal until now. This might be as simple as just stress adjustment in the crust in the area. At current time I don't think an eruption is imminent in Tungafellsjökull, but with no history to work with this volcano might surprise me and everyone else. For the moment I think it is just earthquake activity until I am disproved by the volcano or this earthquake activity just stops.
The caldera formation in Bárðarbunga volcano
The new caldera that is now forming in Bárðarbunga volcano is a large event, since Bárðarbunga volcano is a large volcano. GPS data (website here) says that here is still inflation ongoing in Bárðarbunga volcano and at the moment mostly in the dyke. What is so dangerous with this are many factors. Here is the top list of them.
The drop in certain parts of Bárðarbunga volcano down its slopes is up to 1800 meters.
The glacier over parts of Bárðarbunga volcano are up to 850 meters thick in the caldera. Outside the caldera the glacier is up to 600 meters thick.
There are hydro-power dams south-west of the Bárðarbunga volcano. Glacier flood might go that way. There are also some populated areas that might be at risk depending what way the glacier flood would go.
Populations at north of Jökulsá á Fjöllum glacier river (downstream) are at risk from large glacier flood. So are two bridges, the third one that is up on the high lands is not going to be saved.
There is going to be a huge ash cloud once Bárðarbunga volcano collapses into a new caldera. What damage that ash cloud is going to do depends on wind direction. If we have really bad luck we might be looking at air space closure for week or two in Europe depending on wind and weather systems.
There are other risks that I don't about yet.
Bárðarbunga volcano caldera (the current one) is around 70 square km in size, around 10 km wide. With the depth of 850 meters and it is full of glacier as I have mentioned many times before. When this is going to hit disaster mode part of that glacier is going to melt and create massive floods. Even if the caldera collapse might happen there is still a high risk of continued eruption activity after that event. Since this might just be a start of long eruption cycle in Bárðarbunga volcano. Since it had been quiet for a long time until 16-August-2014 when this eruption cycle started in Bárðarbunga volcano. What is happening in Bárðarbunga volcano and is creating of a new caldera. The caldera is just now in its early formation stage, when the later stages start to happen I do not know since I don't have any past data to work with. This does not happen often in Iceland I think and has never happened before since recording of earthquakes started in Iceland.
Updates
If anything major happens I am going to post updates here.
News bits
Subsidence by hundred of meters possible (Rúv.is)
The media in Iceland is now less occupied with this eruption than before. So it is harder for me to get information that way at current time.