Few days ago the uncertainty level around glacier rivers that come from Mýrdalsjökull glacier have been cancelled. However the area remains dangerous due to gases that might collect in pockets in low lying areas. So it is not safe to go close to the glacier rivers from Mýrdalsjökull glacier even if the uncertainty level has been cancelled by the authorities.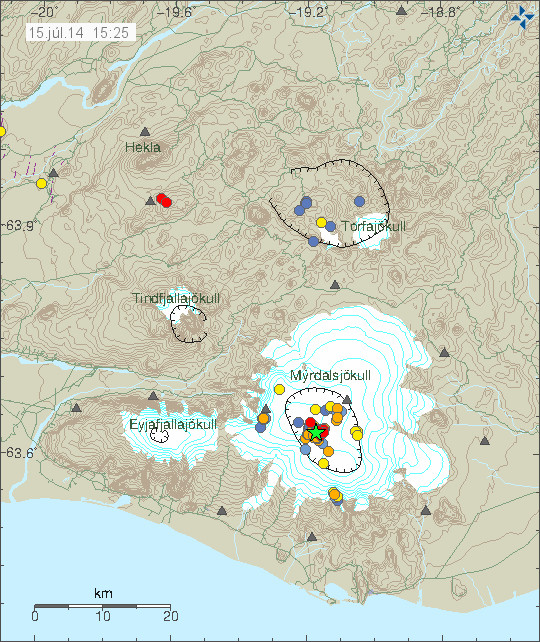 Earthquake activity today in Katla volcano. Copyright of this image belongs to Icelandic Meteorological Office.
Today (15-July-2014) an earthquake swarm took place in Katla volcano. Largest earthquake in this swarm had the magnitude of 3,1. Other earthquake that happened where smaller. This earthquake swarm is one of the most dense in the past few weeks and it appears that earthquake activity is once again on the rise in Katla volcano. I am now expecting this earthquake activity to continue. I also think there is a high risk of small eruptions within the Katla volcano caldera. This eruptions would only last for few hours at the most and not even break trough the Mýrdalsjökull glacier. It has to be noted that scientist on duty at Icelandic Meteorology Office does not agree with my opinion. While there is a high risk of this (in my opinion) that this might happen, it does not mean it is going to do so. The best thing that can be done for now is to observe activity in Katla volcano.
If anything more happens. I am going to post update on it soon as possible. Any large earthquakes that happen in Katla volcano do appear clearly on my geophone at Heklubyggð and they can be viewed here. There is also a web camera of Katla / Eyjafjallajökull located here.