Today (8-July-2014) a uncertainty level was declared at Katla volcano. This means that people should be aware of the activity that is now taking place in Katla volcano. The most dangerous areas at the moment are the glacier rivers that come from Katla volcano, due the extremely dangerous gases that are in the water coming from Mýrdalsjökull glacier. People should not stop at Múlakvísl glacier river and other glacier rivers that come from Mýrdalsjökull glacier due to this danger. It is also unclear if an larger glacier flood might take place, if it does it is going to happen with no warning at all. Tourist in the area also urged to have there mobile phones turned on in case emergency SMS needs to be sent to people in the area around Mýrdalsjökull glacier.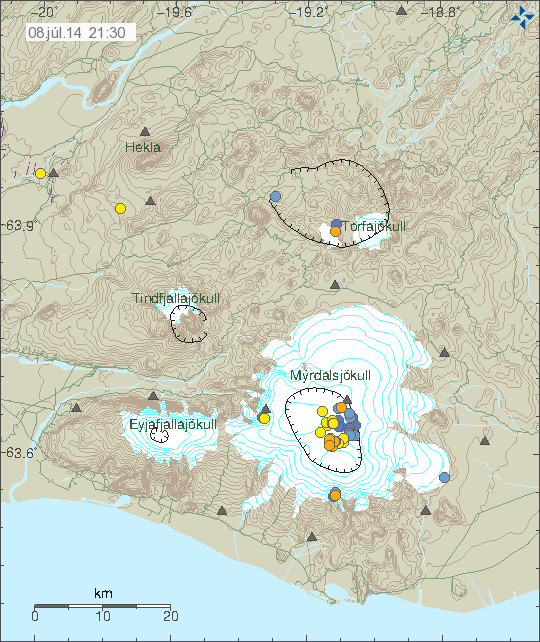 Earthquake activity in Katla volcano during the past 24 hours. Copyright of this image belongs to Icelandic Meteorological Office.
Currently [when I write this text] there is little earthquake activity in Katla volcano. That calm might not last, since earthquake activity has had the pattern of dropping off for few hours between peaks in activity. The largest earthquake during the past 24 hours had the magnitude of 3,0. Smaller earthquakes had the magnitude of 2,7 and lower magnitudes.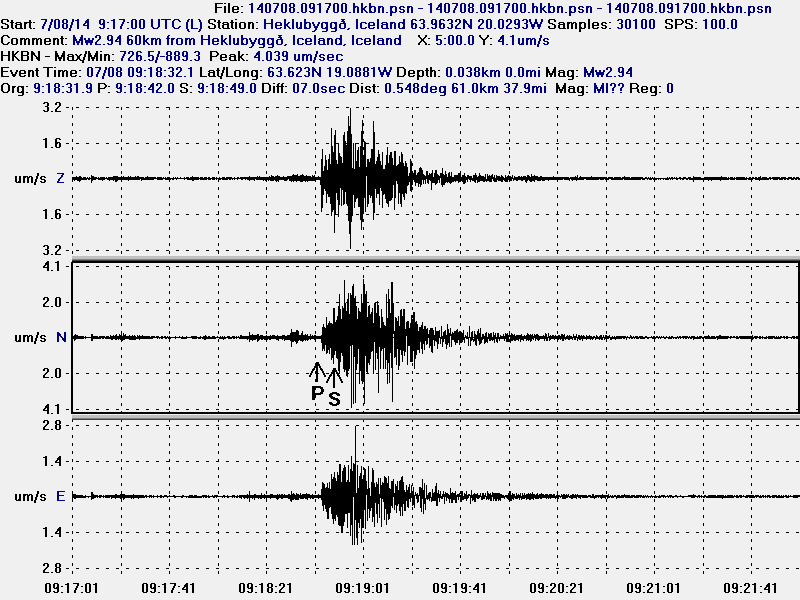 The magnitude 3,0 earthquake in Katla volcano this morning at 09:18 UTC. This image is released under Creative Commons licence. Please see CC Licence page for more details.
Earthquake activity has been in the same pattern as did happen in July-2011. So far no harmonic tremor has been detected. It is impossible to know if this is going to result in a eruption or not. The risk of an eruption is higher now then normal, but that does not mean that a eruption is going to take place. It is possible to see larger earthquakes from Katla volcano here on my webicorder website. It is possible to see Katla volcano here if it is not too cloudy.
Donations: Please remember to donate to support my work or buy from Amazon (select your Amazon store before you buy). I am getting awfully broke already (I am just on minimal income from Iceland and that is no good). Thanks for the support.