Interesting earthquake activity continues in Bárðarbunga volcano. There is also interesting earthquake activity taking place in Hamarinn volcano. The source of this activity is magma dike activity in Bárðarbunga volcano. It is most likely not going to result in a eruption, but might be a sign of more activity in the future.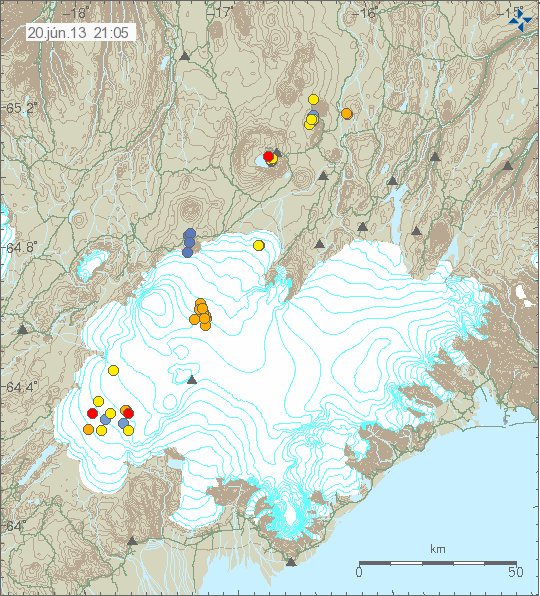 Activity in Bárðarbunga volcano. Copyright of this image belongs to Icelandic Meteorological Office.
There has also been activity in Hamarinn volcano, I do not know if it is connected with the activity in Bárðarbunga volcano. I find it unlikely to be the case, but I cannot rule it out at current time. It is unclear if this is new earthquake activity, it might be as simple as new SIL stations in the area, or this could be real activity increase in the area close to Hamarinn volcano. I am currently not clear on this detail as is. Last eruption in Hamarinn volcano was in July 2011, I did write about it here. It is worth keeping a eye on this activity in the Hamarinn volcano, it has proven to be a unpredictable volcano and it appears that magma is at shallow depth in it.
Blog post updated at 23:32 UTC on 20-June-2013.