At 00:41 UTC on 25.01.2013 an magnitude 3.1 earthquake did take place on Reykjanes peninsula. This earthquake was felt in Reykjavík, Hafnarfjörður and few other nearby populated areas. Two aftershocks did follow this earthquake. Both had the magnitude 1.5. It is impossible to know if this earthquake activity is going to start an earthquake swarm in this area. Sometimes that happens, sometimes it doesn't.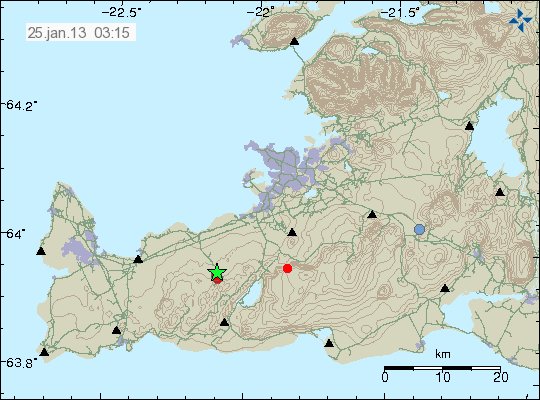 The green star marks the location of the magnitude 3.1 earthquake. Copyright of this image belongs to Icelandic Meteorological Office.
No further earthquake activity has so far taken place in this area during the past two to three hours. This earthquake activity does not appear to be volcano related. But this is normal tectonic movements of the rift zone that makes up Reykjanes peninsula.
Icelandic news about this earthquake. Please use Google translate and hope for the best.
All snarpur skjálfti á Reykjanesskaga (Rúv.is)
Jarðskjálfti fannst á höfuðborgarsvæði (mbl.is)
Jarðskjálfti við Keili (Vísir.is)