A minor glacier flood has started from Grímsfjall volcano glacier lake. This glacier flood is expected to be extremely small. Since last glacier flood from Grímsfjall volcano took place earlier this year. That glacier flood was also small. Minor harmonic tremor changes have been taking place on Grímsfjall SIL stations. But they are not strong and can easily drown in wind noise. But it has been a stormy few weeks in Iceland.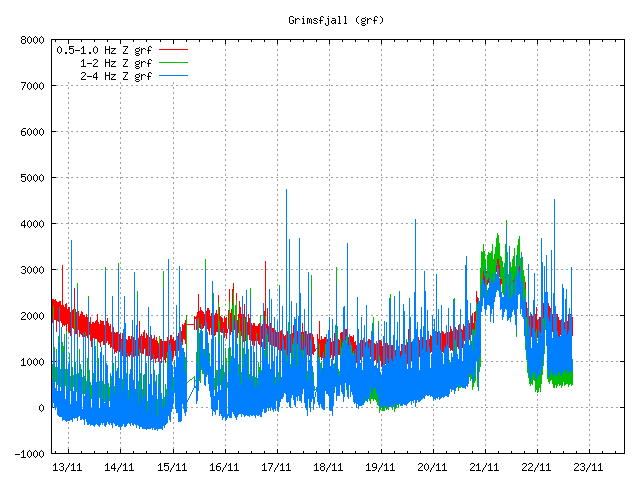 Harmonic tremor changes on Grímsfjall SIL station. Copyright of this image belongs to Icelandic Meteorological Office.
I do not expect any volcano activity to take place following this glacier flood. As last eruption in Grímsfjall volcano took place last year and that eruption was the largest one in 140 years at least. But I am going to keep monitoring this activity and post updates if anything changes.
Icelandic News about this glacier flood
Lítið hlaup hafið í Grímsvötnum (Rúv.is)
Vatnamælingamenn á leið austur (Rúv.is)
Hlaup að hefjast í Grímsvötnum (Vísir.is)
Lítið hlaup hafið í Grímsvötnum (mbl.is)