Last night there was an earthquake swarm on Reykjanes Ridge. Possibly on one of the volcanoes that are in this area of Iceland. The earthquake swarm lasted for several hours. Strongest earthquakes in this swarm had the magnitude of 3.5. With the depth from 23 km and up to 0.3 km. Strongest earthquakes in this swarm where visible on my geophone network.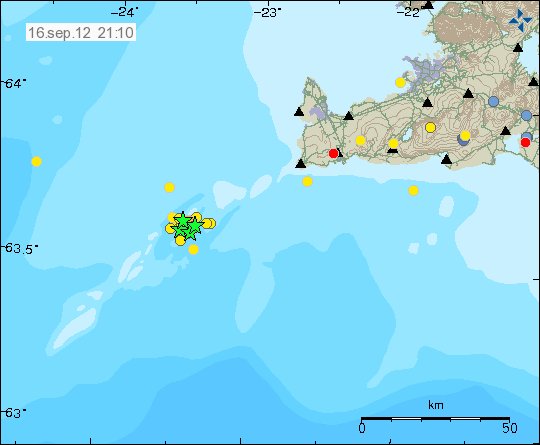 The earthquake swarm on the Reykjanes Ridge. Copyright of this image belongs to Icelandic Meteorological Office.
Last earthquake swarm in this area was on 8. February 2012. There was also earthquake activity deep on the Reykjanes Ridge. With two earthquakes that did get the magnitude 4.4 (EMSC) at 12:51 UTC. The second earthquake took place at 14:30 UTC and had the magnitude of 4.4 (EMSC). This earthquake activity is far enough from land that only the largest earthquakes are detected.
But there seems to be a lot of earthquake activity both south and north of Iceland (Jan Mayen earthquake activity). But this not connected activity as such. But it is known that activity on Reykjanes Ridge happens in jumps. It is an question if such time has come that an new activity episode is about to start on the Reykjanes Ridge. But last major episode in activity on the Reykjanes Ridge ended about 671 years ago. But there is one eruption documented off the coast in the year 1926 according to Global Volcanism Program. That activity did last for 4 days or so.
I am not sure what is going to happen next on the Reykjanes Ridge. But I am going to report it best to my ability. With the best information that I can get when the time comes.
Icelandic news about this earthquake activity
34 skjálftar frá miðnætti (mbl.is, Icelandic)
Blog post updated at 02:47 UTC on 17.09.2012