This morning at 07:03 UTC on 21. August 2012 an earthquake swarm started in Katla volcano. This earthquake swarm lasted for few minutes with the last earthquake taking place at 07:50 UTC. No harmonic tremor was detected following this earthquake swarm in Katla volcano. Update 1: The largest earthquake in this earthquake swarm had the magnitude of 2.6 at the depth of 0.1 km.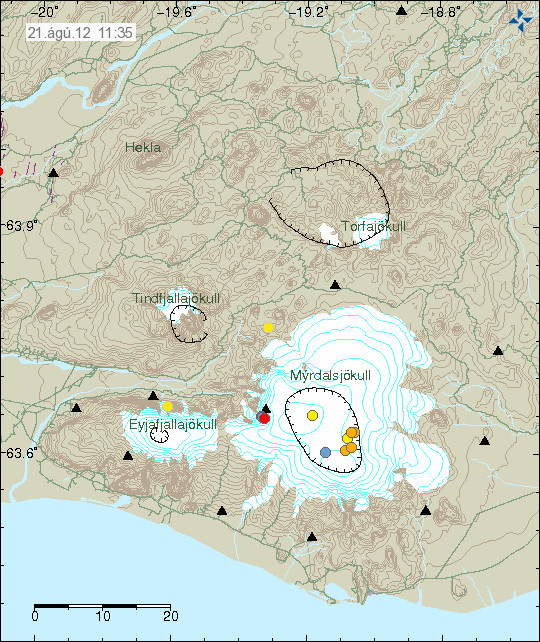 Earthquake activity in Katla volcano this morning. Copyright of this image belongs to Icelandic Meteorological Office.
It is impossible to know for sure what this activity means. But this might just be normal autumn activity in Katla volcano. I am expecting more earthquake activity in Katla volcano in next few days to weeks.
Icelandic news about this earthquake activity
Skjálfti í Mýrdalsjökli (Rúv.is, Icelandic)
Jarðskjálfti upp á 3,1 stig í Mýrdalsjökli (Vísir.is, Icelandic)
3,1 stigs skjálfti í Mýrdalsjökli (mbl.is, Icelandic)
Blog post updated at 15:18 UTC on 21.08.2012. I have not yet fully recovered from the heat wave. I forgot the important information about this swarm. They have now been added.