It seems by the harmonic tremor data that a new erupting fissure has opened up somewhere in El Hierro volcano. But given lack of visual observation I do believe that this fissure is at really great depth, and is not leaving any signs on the surface that a new eruption is taking place. Where this new fissure might be is unknown to me at present time. But based on the harmonic tremor data this new eruption seems to be powerful one. It should be expected that new fissures opens up a random while El Hierro volcano is erupting. So far the fissures that have been opening up have been short and out in the ocean. It should also be expect that erupting fissures stop erupting for no reason and with no warning at all. This seems to have happened as I am writing down this blog post.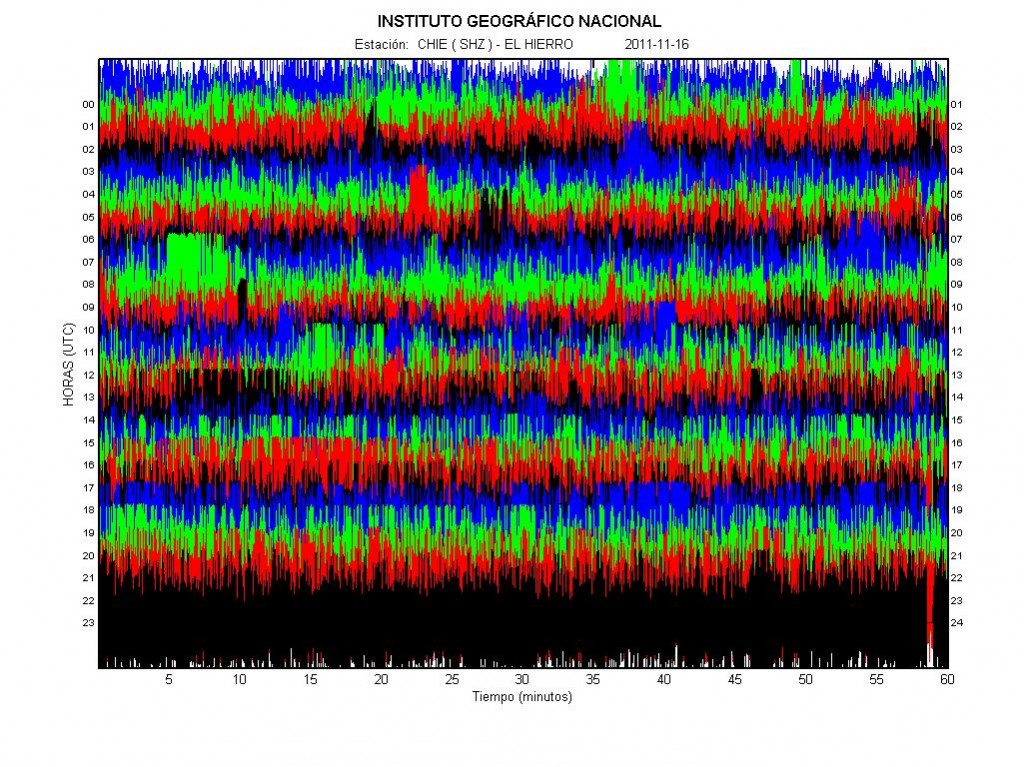 The harmonic tremor from the eruption in El Hierro volcano yesterday. It can be seen on this harmonic tremor chart that the eruption was powerful all yesterday. Copyright of this picture belongs to IGN (Instituto Geográfico Nacional).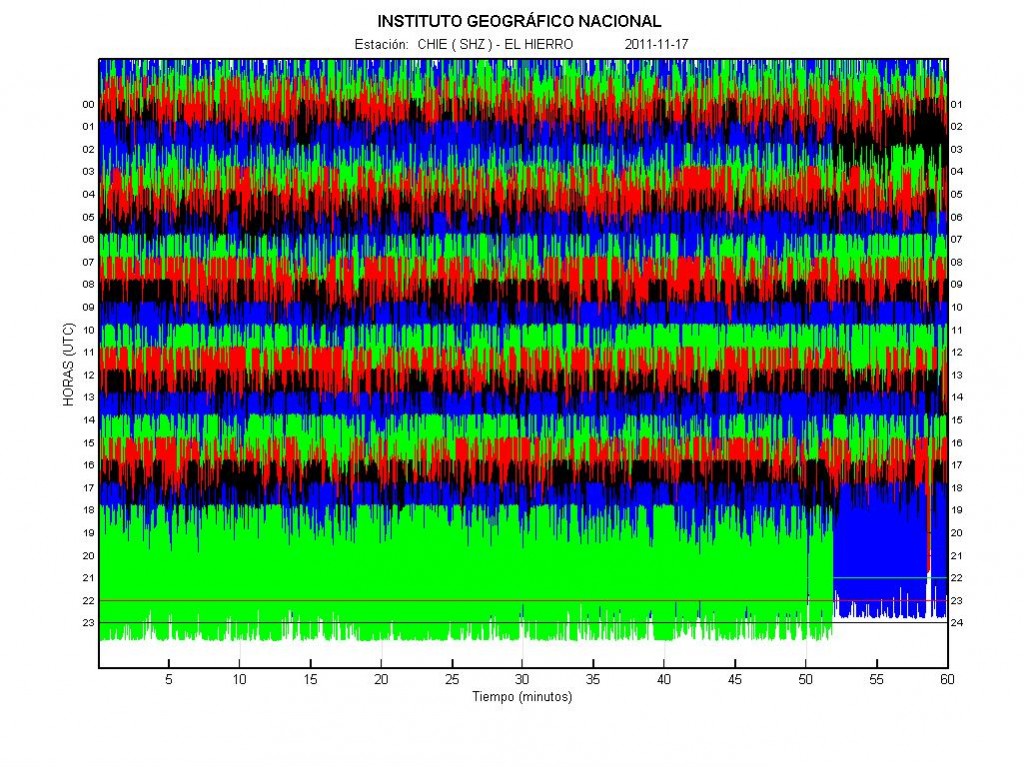 The harmonic tremor around 22:07 UTC. At that time the eruption was in full power as can be seen. Copyright of this picture belongs to IGN (Instituto Geográfico Nacional).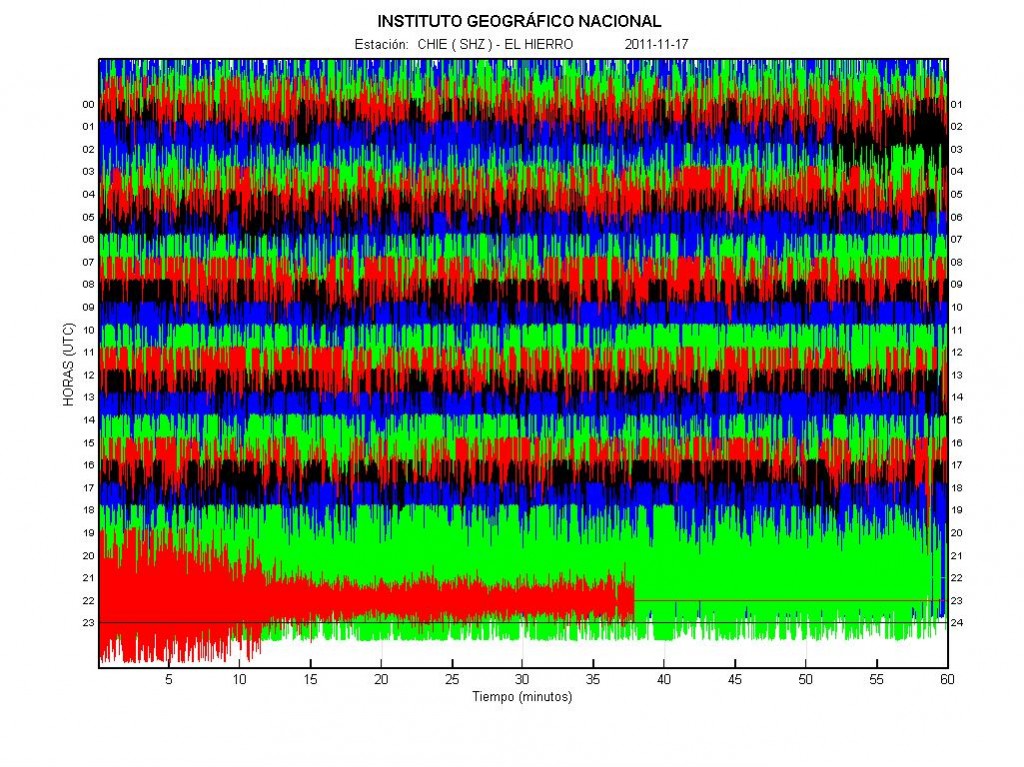 The harmonic tremor at 22:46 UTC. Notice how the drop is sudden when the new eruption fissure stops erupting. What happens is that the magma source that fed the erupting fissure did dry up. Why and how that happens in unknown to me. Copyright of this picture belongs to IGN (Instituto Geográfico Nacional).
This might mean that a new fissure might open up in the next few hours to days. Where that might happen is impossible to know. But as the fissures have been open up so far, it is going to be in a North – south line (about) in El Hierro volcano. What has however become a problem in my opinion is that the magma might have "boiled" the rock and made it soft. So it might not make a earthquakes before a eruption starts in it. This might be the case if the magma has been in the crust for the past 5 weeks. But the only example of that type of event that I know of was in Eyjafjallajökull volcano last year (2010), when a new fissure did open up suddenly and without any earthquakes or warning after 4 weeks of eruption. The reason for that was the same one on what I think might be happening in El Hierro volcano.
From what I can tell, based on data and earthquakes it does not seems that the eruptions in El Hierro volcano are over. As new magma continues to flow in from depth (the mantle). Until that flow stops, El Hierro volcano is going to continue to erupt. However there might be breaks from few hours and up to several weeks between eruptions, in that case no eruption would be taking place. This has its origin in the fact that this is a fissure rift events of shorts, a similar eruption took place in Krafla volcano in Iceland for over a 10 year period. Movement and flash inflation and deflation are also to be expected during this period in El Hierro volcano eruption. As it has many similarities of the eruption in Krafla volcano in Iceland. But it is not exactly the same, just similar. As Krafla volcano is on the inter-plate rift zone. While El Hierro volcano is on a hot spot rift zone, far inside the Africa Plate.
Update on the forum: There have been some technical difficulties with the whois registration. How that works out is not yet clear. I am going to short that issue out before I set-up the forum on the domain. In the case I have to register a new domain name. What happens in this case should be come clear next week I hope.