This is a general update for Katla volcano and El Hierro volcano.
Katla volcano, Iceland
During the weekend there was a minor dike intrusion into Katla volcano caldera. The largest earthquake in this earthquake swarm was a ML2.1 with the depth of 1.4km. This is among the smallest earthquake swarms in Katla volcano since activity started to increase after the small eruption in July 2011. The reason for this earthquake swarms in Katla volcano are dike intrusions (wiki). Sometimes following this are small glacier floods from Mýrdalsjökull glacier that is on top of the caldera. But that does not seems to have this time around, or the last time there was a dike intrusion in Katla volcano (few weeks ago).

The earthquake activity in Katla volcano during the weekend. Copyright of this picture belongs to Icelandic Met Office.
El Hierro volcano, Canary Islands, Spain
The eruption in El Hierro volcano continues as it has been doing for the past four weeks (almost). But the chance of a new island forming has grown somewhat in the past few days. The main reason for that is that eruption did gain some strength during the past two weeks. The increased strength in the eruption was due to a new injection of magma into El Hierro volcano. Both at the main magma sill and what seems to be a new magma intrusion into El Hierro at depth. That magma has so far not been able to reach the surface and remains at the depth of 20 km or so. But there also seems to be some dike intrusion activity been taking place in the same area, as more magma is injected under El Hierro volcano North West of the town of Frontera (IGN name information).
For that reason the risk of new eruption vents open up in this area is high in my opinion and is going to remain that during this eruption. But it remains to be seen if a new eruptions vents open up in this area. But that depends on the amount of magma that is currently injecting into El Hierro volcano at depth. It is impossible to know for how long new magma is going to get supplied into El Hierro volcano. But so far this process has been ongoing since July, so that is already five months (or about that) that new magma has been flowing into El Hierro volcano.
The formation of new Island off the coast of El Hierro Island is now a real chance. As the erupting vent has build up close enough to the surface of the water to start the Surtsey Island process. That process in it self is going to take few weeks to complete, at least until the crater no longer gets water into it. When the water can no longer into the crater the eruptions turns to lava fountain eruption. A Hawaiian style of eruption to be exact. That progress is going to remain to the end of eruption. But this is only going to happen if the eruption lasts long enough to build a small Island off the coast of El Hierro Island. So far that remains unseen. However the chance for this to happen is good in my view.
There is also worth noticing that this eruption is a bit variable in eruption strength. This can clearly be seen on the harmonic tremor plots that can be viewed online from El Hierro volcano. This is normal, as the flow of magma from inside El Hierro volcano is not stable and can change suddenly. The risk of new fissures to open up without warning remains high in the area around the current eruption vent is also high. The new fissure have the risk of opening up without any earthquakes and warning. To some extent this has already happened during this eruption. But I am not sure the new eruption vents did stay erupting for a long time. This is however most likely to repeat it self regularly during this eruption.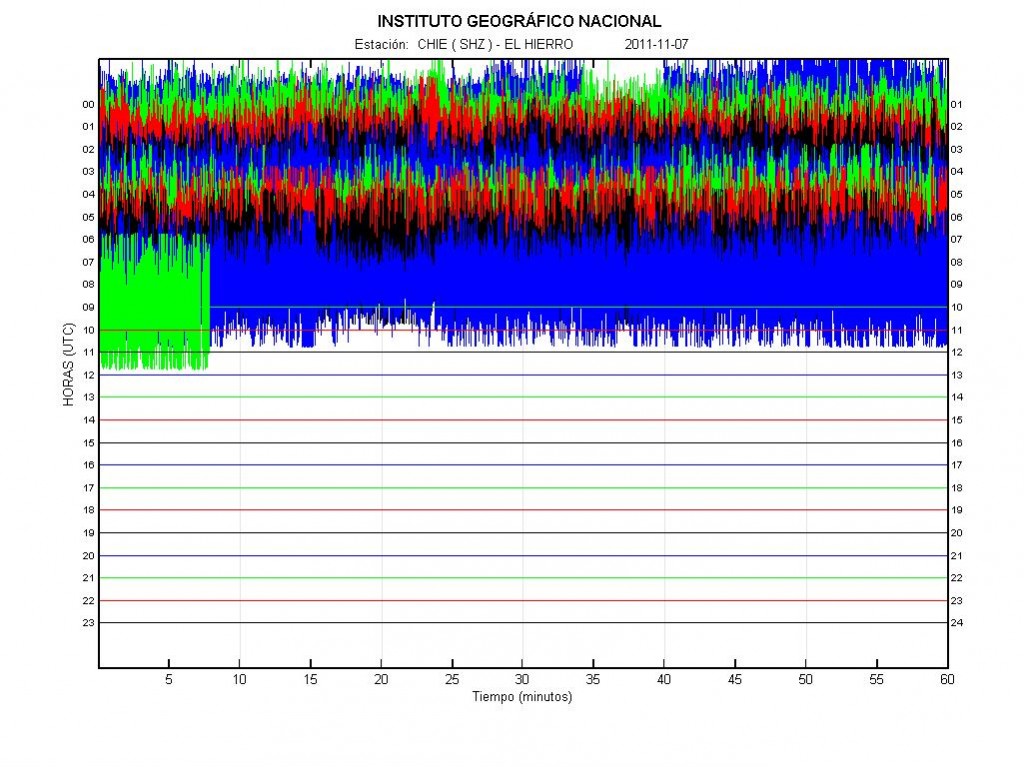 The harmonic tremor in El Hierro volcano on 7 November, 2011 at 09:32 UTC. Copyright of this picture belongs to Instituto Geográfico Nacional.
Off topic: Small apology
Here is a small apology to my readers. I have been a little bit under the weather in past few weeks. There are many reasons for this. But the biggest one is that my plan to live in Denmark failed this summer. But the chance of me moving back to Denmark has lifted my mood again. But I also found that playing computer games helps me dealing with my current status a bit. Because of this under the weather issue. My blog post have not been that good in my view. For that I want to apology. I can't promise that this won't happen again while I am living in Iceland. It is also a factor that the darkest time of the year never goes well with me (Mid October to early March).