This is a special report on the eruption in El Hierro. This is also a good time (as any) to announce that I plan to write about volcanoes in Canary Islands in the future. As I plan on moving to the Canary Islands in about 10 years time (no reason to start late on this). But I have already induced the Canary Islands volcanoes into my personal watch system. But I have my own personal system to watch volcanoes in Iceland and now Canary Islands. However, Canary Islands are not part of my personal emergency system until I move to Canary Islands.
Update to the name of this blog is going to happen soon, but I am not sure when. But I am going to move in a about 10 years time (going to live in Denmark until that happens). Until then, they are going to go into special report group and only major events are going to be blogged about. Please note that this might change if I move earlier to Canary Islands then I now plan.
******
The eruption in El Hierro volcano continues today, as it did yesterday. But the strength of the eruption appears to have dropped today from what it was yesterday. But this does not mean that the eruption is over. It just means that the current fissure that is erupting is about to close up, mostly due to the material that it has been ejecting into the ocean floor. That means a new fissure or vents is about to open up somewhere. When and where is impossible to know. But this is the nature of volcanoes that erupt in this manner, but El Hierro is a shield volcano [second link here]. Good examples are Krafla volcano and Vestmannaeyjar Island volcano. Both of those volcanoes are in Iceland.
Today around 14:20 UTC there was a sharp tremor drop in El Hierro. This means that the magma flow dropped in the current eruption fissure. This also means that if the pressure is not enough that fissure is going to stop erupting. Because of this has happened a new fissure or a vent should be expect at any time as I have told before. When and where that might happen is impossible to know, as that outcome depends on where the magma finds its pathways inside the volcano. There might not be any earthquakes before this happens, as the rock is unlikey to be hard enough to make them. Some small earthquakes might happen if the rock layer is hard enough. Today few deep earthquakes have been recorded. This means that new magma is getting into El Hierro volcano from the mantle (where no earthquakes happen). This also means that this eruption might take place for some time now. But it is impossible to know for how long, as there might be a lot of magma flowing up from the mantle it self and up to El Hierro volcano.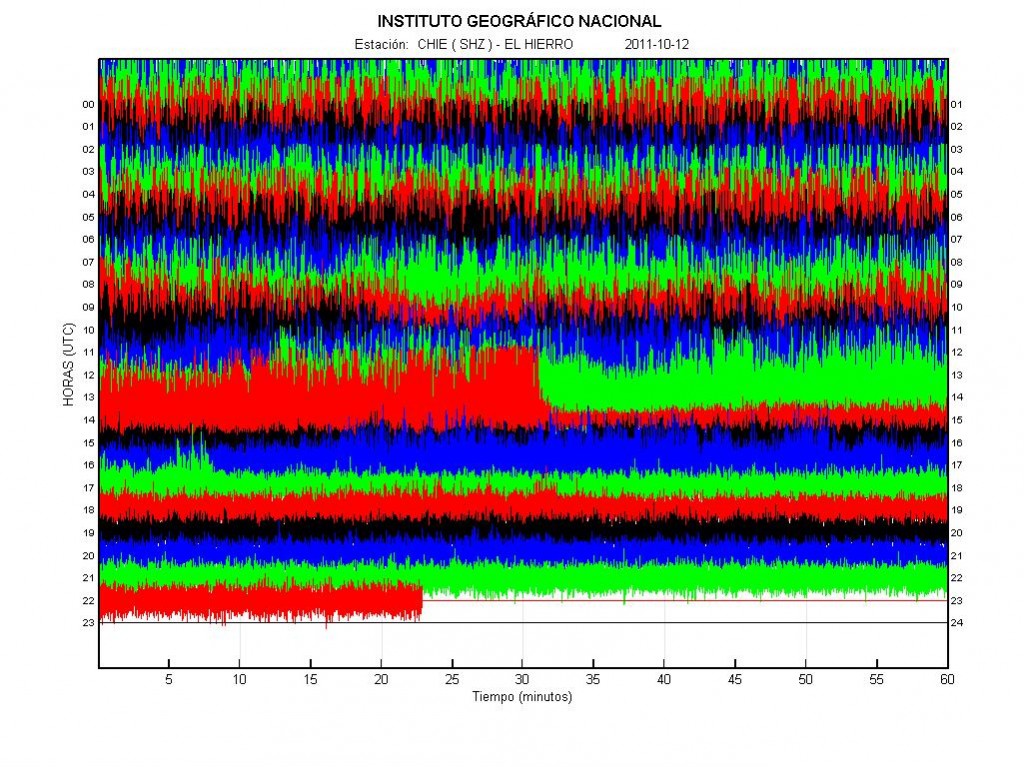 The harmonic tremor and the drop in the harmonic tremor today. Copyright of this picture belongs to Instituto Geográfico Nacional.
Many people have been wondering why this eruption has not been seen. The fact is that depth drops quiet fast around El Hierro Island. Around 4 km out the depth is close to 1.5 to 2 km, it is only close to the island that the depth starts to get shallower. At the moment is is hard to say what happens next in this eruption on El Hierro. But more vents should be expect to open up then have already have.
I am going to update this blog post if anything changes in El Hierro volcano eruption.