This morning there has been some earthquake activity in Katla volcano. But it has also been reported in the news this morning that a really strong sulphur smell was found around 06:00 UTC on nearby farm to Múlakvísl river this morning. But this was before the earthquake did happen. I am not sure if this sulphur smell continues to be felt in the area close to Katla volcano. No changes in water hight has been detected in Múlakvísl glacier river.
The ML2.6 earthquake in Katla volcano was on 2.3 km depth. This was mostly a dike intrusion into the bedrock of the Katla volcano caldera.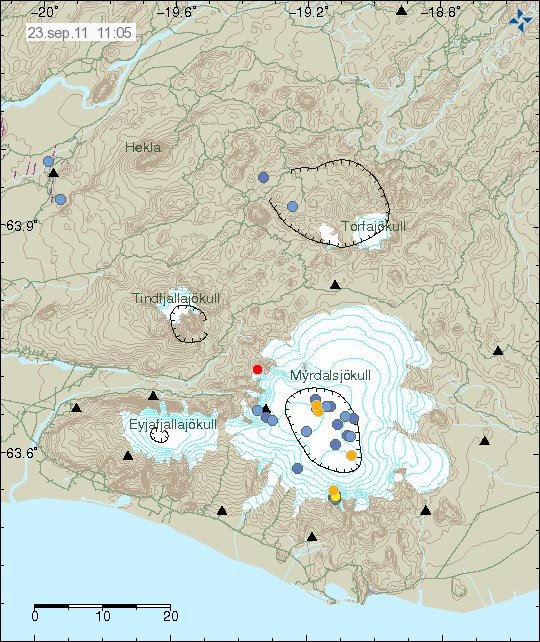 The earthquake swarm this morning in Katla volcano. Copyright of this picture belongs to Iceland Met Office.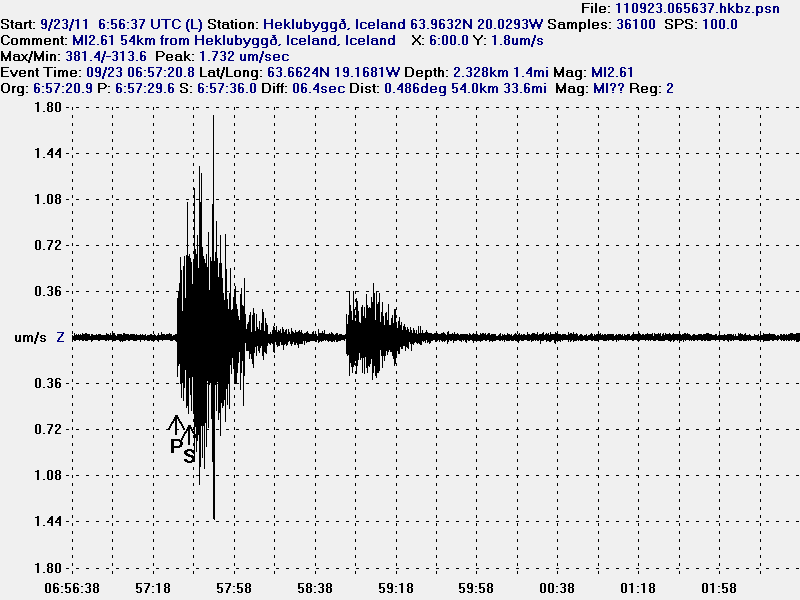 High resolution of the Katla volcano earthquake this morning. Along with correct depth and size. This picture is released under Creative Commons licence. See Licence page for more details.
As before. This is just a wait and see what is going to happen in Katla volcano as before.
Icelandic News of the sulphur smell in Múlakvísl glacier river.
Brennisteinslykt fannst við Múlakvísl í morgun (Vísir.is, Icelandic)
Brennisteinslykt við Múlakvísl (mbl.is, Icelandic)
Update 1: According the news on Rúv this activity suggests that hydrothermal activity is continuing to increase in Katla volcano caldera. But the news also says that this activity is something like that did happen from the year 2002 to the year 2004, when hydrothermal activity did increase before it started to get lower again. It is also pointed out my Matthew Roberts that Múlakvísl glacier river is sensitive to changes in Mýrdalsjökull glacier and small floods can happen without any warning in it due to increased hydrothermal activity.
Rúv news in Icelandic about this.
Bendir til aukinnar jarðhitavirkni (Rúv.is, Icelandic)
Blog post updated at 13:07 UTC, 23 September 2011.