In the last few days there has been good earthquake activity in TFZ (Tjörnes Fracture Zone). The largest earthquakes have been up to ML3.0 in size. But this earthquakes swarm have mostly been small and lasted for a short time.
Last night a earthquake swarm started in Krýsuvík volcano. This was just a normal tectonic earthquake swarm that normally takes place in this area on regular basic. From what I can tell. But it is impossible to know if this earthquake swarm was created by magma movement or not.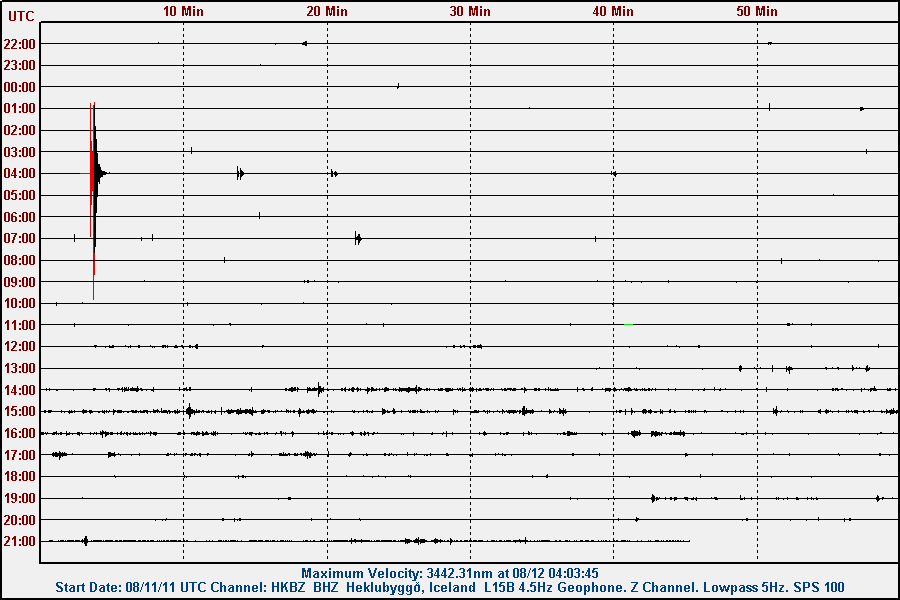 The earthquake swarm as it did appear on my Heklubyggð geophone. This picture is released under Creative Common Licence, see the licence page for more details.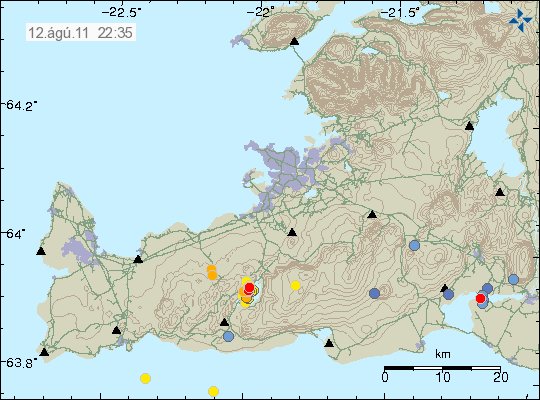 The location of the earthquake swarm. Copyright of this picture belongs to the Icelandic Met Office.
This earthquake swarm took place in and close to a lake called Kleifarvatn. The largest earthquake in this earthquake swarm was a ML2.9 (automatic size). Currently the earthquake swarm is ongoing. But it has slowed a lot down since it started last night. At the moment, it looks like this earthquake swarm in Krýsuvík volcano is over for now.
Some earthquake activity was also on the south part of the MAR SPAR fracture zone, south and north of Kolbeinsey Island. The largest earthquake there was a ML3.0 (automatic data). Earthquakes this area happen often also. Like on the Tjörnes Fracture Zone.
Blog post updated at 23:38 UTC.
Blog post updated at 22:06 UTC on 16. August 2011. Fixed a error in it.