I was going to write about something else (TFZ and other earthquakes around Iceland in the last few days). But that just has to wait for a little longer.
It seems that Katla volcano earthquakes are increasing again. This increase appears to be similar to the increase in earthquakes before the glacier flood from the 9th to 17th of June and onwards until the glacier flood on 8th and 9th of July. The only difference now is that I am seeing this pattern earlier since I now know what to look for this time around when this is in its early stages.
How this is going to develop now is a wait and see process. But this might take as long time to get interesting as it did in June to July, to the event that ended with the glacier flood from Mýrdalsjökull glacier.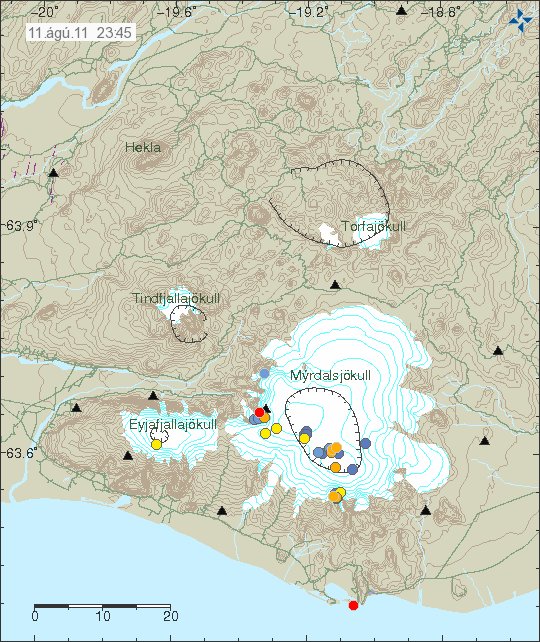 Current earthquake activity in Katla volcano. Copyright of this picture belongs to Icelandic Met Office.
It is also worth noticing that the earthquake activity is not as focused as it was in early June and in July. But I am fully expecting that to happen soon. But it remains to be seen if that actually happens or not.
The earthquake activity SSE in the Katla volcano caldera rim is still interesting. I do not know why it is taking place there. But if a eruption would take place at this location. There would be a short glacier flood and some period with volcano ash explosions. But after that it should be lava eruption in that location if it where to last long enough to remove all that water from the crater. But this is all just a speculation and nothing more.
For now. It is just wait and see what happens next.