The harmonic tremor that started yesterday has been confirmed to be coming from Hamarinn volcano (Bárðarbunga volcano), but they are also known as Loki-Fögrufjöll in GVP database.
So far there is nothing that indicates an eruption is taking place at the moment in Hamarinn volcano. But that might change without warning. At the moment nobody is sure where the glacier flood is coming from. But this appears to be a new area of hydrothermal activity in Hamarinn volcano that is releasing water at the moment. This new hydrothermal area is most likely created by new dike intrusions into the bed rock in the affected area. There are no pictures of the affected area, as the area is impassible to air plains at the moment due to cloud cover or fog. Lack of earthquakes also makes it hard to locate the source of this glacier flood.
Currently the glacier flood has peaked and is getting lower. There not expected to be any damage from this glacier flood on human structures or roads. This area of Iceland is unpopulated. The water is going into large lakes in the area where the effects of this glacier flood are almost none. The glacier flood did flow into a dam lake that is collecting water from rivers that this glacier flood did go into. This did make the lake rise about 70 cm in several hours and fill it. No damage is expected from this glacier flood to the dam or other structures in this area connected to the dam. But it is estimated that 26 gigaliters did flow into the dam lake during the night from this glacier flood.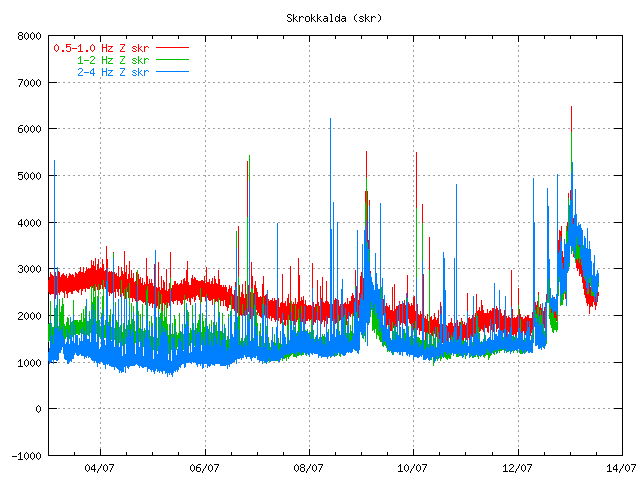 Harmonic tremor at 12:59 UTC, this is Skrokkalda SIL station. At this time it had been dropping down. But starting to rise again after that when this is written. Copyright of this picture belongs to Icelandic Met Office.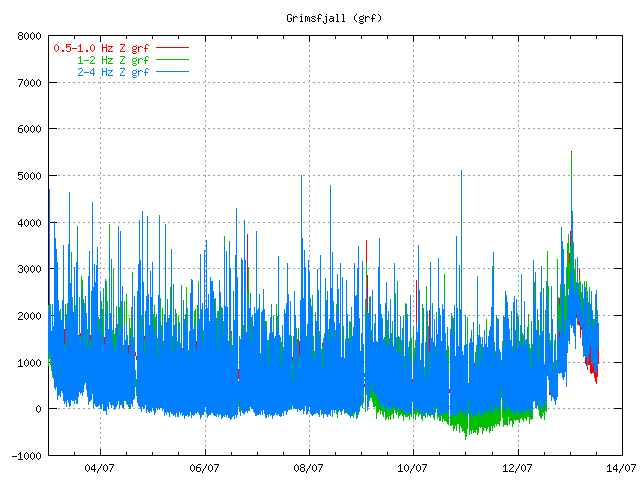 This is the harmonic tremor at 12:59 UTC on Grímsfjall SIL station. It is bit hard to see it due high background noise on this SIL station. Copyright of this picture belongs to Icelandic Met Office.
So far this is just a glacier flood and nothing else. But that might change if an eruption starts in this area. But that is no way certain that it is going to happen now. We just have to wait and see what happens in Hamarinn volcano.
Icelandic News about this.
Hágöngulón fylltist í hlaupinu (mbl.is, Icelandic)
Hlaup undan Köldukvíslarjökli (mbl.is, Icelandic)
Jökulhlaup undan Vatnajökli (Vísir.is, Icelandic)
Hlaupið í rénun (Vísir.is, Icelandic)
Órói við Vatnajökul (Rúv.is, Icelandic)
Flóð undan Vatnajökli (Rúv.is, Icelandic)