Here is an picture of how an ~5 million year old extinct volcano looks out. This pictures also show an old dike intrusion that might have gone up to the surface on that time. But I think it is hard to know that for sure, as erosion has changed the landscape a lot over the past 10 million years or so. So it hard to know for sure how deep this magma dike did actually form or if it was connected to an crater on the surface.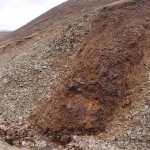 About 5 to 8 million years old dike intrusion into sedimentary rock that pre-dates this dike intrusion. I do not know by how much older the surrounding rock actually is. But it has small fossils in them.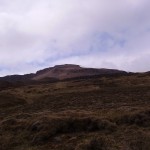 The volcano that did create this old dike intrusion. The rocks in the area (old lavas) suggest that this was mostly basalt that did erupt from this volcano. But this volcano was on the old Snæfellsnes-Skagi Rift Zone.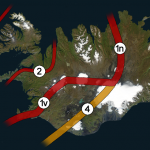 Rift Zones in Iceland. Picture is from Wikipedia. See original copy here along with copyright information. Please note that this picture is NOT completely correct in regards to the facts. But is good for basic illustration of the rift zones in Iceland. Note that this is picture is missing the Skagafjörður Rift Zone (failed rift zone).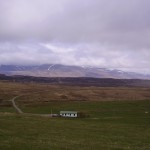 Picture of what can be seen of the Snæfellsnes-Skagi rift Zone. (I think it is the correct name for it). The mountain behind it is also an massive old volcano that was active at the same time as this rift zone. The houses there belong to my mon and dad (also on the picture below this one). They run an sheep farm.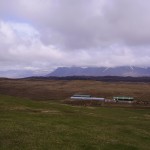 Picture of Snæfellsnes-Skagi rift Zone to the north. The same volcano as on picture above can also been seen on this picture. But what is not seen is the third volcano that is in this area (also extinct). But glacier activity did remove all major traces of that volcano long time ago.
I am going to post more pictures of this area during the summer. Even if it is just small part of Iceland, it has an lot of geological history to show. All of it is connected to volcanism and glacier activity over the past 8 million years (or about that) time. Too see full size of the pictures, just click on them.