Here is a picture of a earthquake that took place in Askja volcano last night. This earthquake was bearly visable on my geophone close to Hekla volcano. From this data it is clear that the earthquakes are created by magma movements inside Askja volcano. But the earthquake swarm is taking place on the edge of Askja volcano main system. It is not happening outside as it might appear.
It is also worth pointing out that not all of Askja volcano earthquakes might appear on the automatic SIL system. But most of them should do so. As Askja volcano is remote and in a unpopulated area there should not be any damage from a eruption. The only damage might happen if there is a eruption in Askja caldera lake due to ash cloud that might form.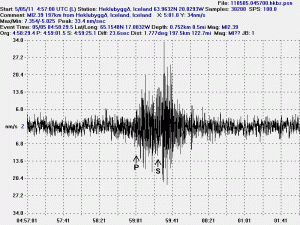 Askja volcano earthquake. This is low pass filtered at 1Hz. This image is released under Creative Commons License, see top link for more information. Click on this picture for full resolution.
This earthquake has magma signature from the looks of the earthquake signal. But due to distance it is hard to be sure on that.
When this is written a tremor pulse appears to be starting in Askja volcano. But this might also be a swarm of micro earthquakes taking place in Askja volcano without the earthquakes appearing on the automatic SIL system. At this point it is hard to know for sure, as this activity is new.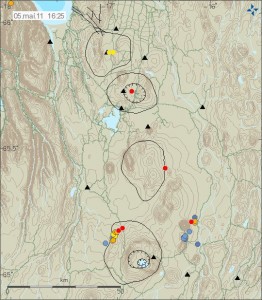 Locations of the earthquakes in relations to the Askja volcano system. As can be seen on this map from Icelandic Met Office, the earthquakes are clearly inside Askja volcano. Even if they are not at the main caldera. Picture is from Icelandic Met Office web site. Copyright of this picture belongs to Icelandic Met Office.
Blog post updated at 16:37 UTC on 5 May 2011. Picture is added.