It appears that Krýsuvík volcano earthquake activity is increasing again. This time around it appears that the earthquake activity in Krýsuvík volcano has moved more to the west then last weeks earthquake activity.
The biggest earthquake so far is a ML2.1 earthquake with the depth of 6.9 according to automatic data on Icelandic Met Office web page.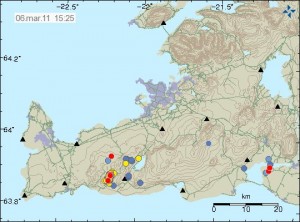 Picture is from Icelandic Met Office web site. Copyright of this picture belongs to Icelandic Met Office.
The new earthquake area in Krýsuvík volcano. It is more to the west then the earthquake area that was making earthquakes last week. Activity appears to be picking up slowly. But it is hard to know how this develops over the next few hours or days.