Please note! What goes below here are speculations based on what I am observing. Nothing might happen, but then again something might happen. We just have to wait and see what happens when it comes down to it.
I have been observing a slight change in the lower frequency band (0.5 – 1 Hz) at Krýsuvík SIL station. This change reminds me of a harmonic tremor of short. But it is not strong enough to appear clearly on Krýsuvík SIL station. But that SIL station is directly on top of Krýsuvík volcano. There have not been a lot of earthquake following this change in the lower frequency bands at Krýsuvík SIL station.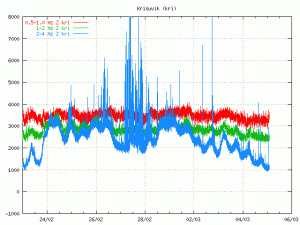 Picture from Icelandic Met Office web site. Copyright of this picture belongs to Icelandic Met Office. This plot was saved at 02:11 UTC on the 05.03.2011. The changes can be seen on 0.5 – 1Hz close to the end.
I am not sure what is going on. But there might be a small chance that this is a magma that is on the move. The second option might also be that a new hydrothermal area did appear close to the Krýsuvík SIL station. If this is magma, then a volcano eruption in the area is not far off (days, weeks, months?). But only time is going to tell for sure what is happening.
Other note: The activity in north Iceland and in the highlands are frost quakes. But it is extremely cold in this area of Iceland at the moment. More frost quakes can appear on IMO maps in the next few hours.