Here is a wave form picture of the ML2.5 earthquake that took place west of Hekla volcano. This earthquake is part of the the SISZ. Not Hekla volcano. But it remains to be seen if this is related to Hekla volcano, but Hekla volcano location appears to have some effect on SISZ. Normally during or after a eruption in Hekla volcano it is followed by a small swarms of earthquakes in SISZ. In the year 1878 there was a eruption in Hekla volcano that was pre-seeded by large earthquakes in SISZ. The eruption that followed was a fissure eruption near a peak named Krakatindur. This area also erupted in the year 1913, but that time on two new fissures.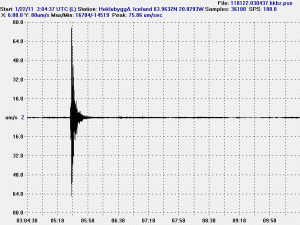 The wave form data. This picture is released under CC licence, see the legal section for more information.
I was going to setup the location and distance data. But IMO has not released that data at present time.
Historical accounts of Hekla eruptions (Icelandic). GVP information on Hekla volcano.